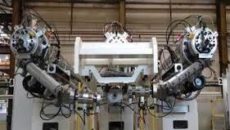 At K 2016, Davis-Standard will present a 90mm extruder featuring updates such as a new extruder frame, innovative feedscrew design and quick screw exchange (QSE) technology.
This specific extruder is designed for high temperature processes up to 300°C and those requiring specialty copolymer resins for film, coating, adhesion and molding applications.
The standardized extruder frame is built with additional space to simplify maintenance and improve heater access. Computer designed stainless steel feedscrews provide reliable melt homogeneity for resins like acid copolymers, which improves bond performance to materials such as aluminum foil.
Other extruder advantages include electrical barrel heating with air-cooled blowers for each zone; temperature controlled water cooling for gearbox oil cooler, water cooled screw and feed section; and fixed die support and thermal expansion capability.
The QSE adapter enables processors to easily change the screw without dismantling the melt pipes, feed block and other components. An extraction tool is included to manually change the breaker plate melt-filtering inserts. The adapter is engineered with an electrical pressure gauge, manual or motorized pressure spindle, double thermocouple for every heating zone, and breaker plate with two-screen pack.
Website:www.adsalecprj.com