Evonik is presenting its products and solutions at China Composites Expo 2016, currently taking place in Shanghai, China until September 2.
The company's showings include: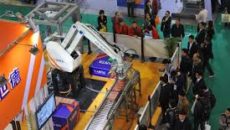 ROHACELL – ROHACELL structural foam, which is based on polymethacrylimide (PMI), is used as a sandwich core structure, for lightweight design but with high strength. IT is being used in the aerospace and automotive industries, medical technology, among others.
NANOPOX – Using NANOPOX surface modified silica nanoparticles, the performance of fiber reinforced composites parts can be improved significantly: modulus, strength and compressive strength as well as toughness are increased.
The fatigue performance is improved significantly. And due to the small particle size of 20nm viscosity is not increased. Furthermore even close meshed fabrics are penetrated by the particles. This makes NANOPOX suitable for all manufacturing processes like prepregging, filament winding, infusion or RTM.VESTAMIN – Aliphatic diamines from the VESTAMIN range are industry-standard crosslinkers for high-performance epoxy systems. Typical applications include industrial floorings, marine and anticorrosive paints.
Also, high performance composites are a major field of application. All major processing fields like Resin Transfer Molding (RTM), wet-pressing and also pultrusion are covered. Epoxy coatings are used as primers and intermediate layers because they offer outstanding mechanical and chemical resistance. They are durable and have strong adhesion to a variety of substrates.
Website:www.adsalecprj.com