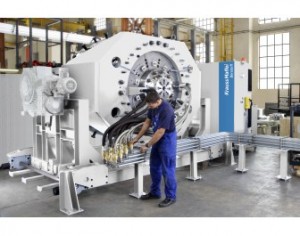 KraussMaffei Berstorff announced recently that two Russian pipe manufacturers have installed its 36D single-screw extrusion system. Isoljazionny Trubny Zawod (ITZ) is a new customer of the Germany-based machinery supplier while Polyplastic Group is an existing client which placed a follow-up order.
"Our customer Polyplastic, the largest plastics manufacturer in Russia, is impressed by our proven 36D single-screw extrusion technology and relies on the high quality of our products and our many years of experience in systems engineering," Andreas Kessler, General Sales Manager at KraussMaffei Berstorff, explained, "Our customer is currently modernizing its machinery with our equipment."
The order is for two models of the 36D single-screw extruder series which will be integrated into an existing corrugated pipe production plant. Another extruder model, the KME 90-36 B/R, will be installed in an existing line for the production of smooth HDPE tubes up to a diameter of 800mm. KraussMaffei Berstorff says the systems will go into operation in the spring of 2013.
According to the announcement, the PE-encased pipes produced on the KraussMaffei Berstorff line with diameters of up to 1600mm are used for encasing PUR-encapsulated steel pipes as heat insulation. ITZ will principally distribute its products in Russia to end users in the oil and gas industry, as well as housing construction and municipal services.
In addition, the largest KraussMaffei Berstorff compounder line began operation at maximum output at Polyplastic's Saratov facility in May last year. The turnkey plant is based on a ZE90*58D UT twin screw extruder and produces filled polyolefin compounds.