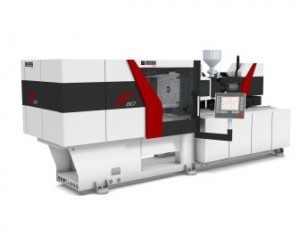 From February through April, 2013, two Ferromatik Milacron injection molding machines will be touring Europe. The travelling exhibition will make stops at local offices in Spain, Italy, Denmark, and the UK. Exhibits include a hybrid F 80 and an all-electric ELEKTRON 50. The machines will spend several days in each country in the technical centers of local offices in Spain, Italy, Denmark, and the UK. Visitors will get a chance to see demonstrations of medical and consumer goods applications, along with expert presentations, says the machinery supplier.
"The roadshow gives us a chance to introduce our machines in smaller, more personal venues, and allows our customers to engage with us directly in their own locale," said Gerold Schley, Managing Director at Ferromatik Milacron and Vice President of Milacron China. The modular F-Series can be configured as an all-electric, hydraulic, or hybrid machine. The F 80 on the tour has been set up as a hybrid machine: clamping and plasticizing are electrically-driven, while ejection, carriage movement, and injection itself are powered by hydraulics. The machine has a clamping force of 800kN. It is equipped with an Advanced Performance APh 40 injection unit, and offers 470 x 470mm tie-bar spacing. It features a 64-cavity mold from Schöttli, based in Switzerland, and will demonstrate the production of syringe protectors with a cycle time of 5.8s. The parts have a shot weight of 41.6g.
This roadshow will also mark the debut of Ferromatik Milacron's second-generation ELEKTRON in Spain, Italy, Denmark, and the UK. This all-electric machine series boasts a sleek new look and brand-new controls. The touring ELEKTRON 50 with 500kN clamping force will be outfitted with an international size 120 injection unit and will produce toy building blocks on a 20-cavity mold made by B & K Kunststoffwerke from Bonn, Germany. The shot weight of the parts is 36g. The parts will be made from a new biopolymer, Terez-Naturegran PV 6930, developed by Livemold from Germany, which uses 70% renewable corn-based material.
The biomaterial is biodegradable and will decompose in nature within 10 to 15 years. It is robust, vividly colored, and meets the numerous safety requirements for children's toys.
There is no charge for registration for the Ferromatik Milacron roadshow.
| | |
| --- | --- |
| Place | Date |
| Barcelona, Spain | 20 – 21 February 2013 |
| Camposampiero, Italy | 07 – 09 March 2013 |
| Humlebaek, Denmark | 18 – 21 March 2013 |
| Chesterfield,UK | 16 – 17 April 2013 |
source..http://www.adsalecprj.com/Publicity/MarketNews/lang-eng/article-67002626/Article.aspx