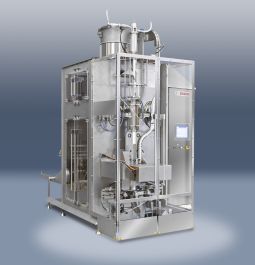 At the forthcoming Pack Expo 2012 in Chicago, Bosch Packaging Technology is exhibiting for the first time in US its new SurePOUCH roll-fed vertical form fill seal (VFFS) machine SPC for packaging of liquid and viscous products. The packs are filled on the SPC, which features only 6sqm and is capable of hygiene standards up to ultra clean-fill. The SurePOUCH packs are also fitted with reclosable spouts, which are ultrasonically welded to the exterior of the pouch and can be positioned in various locations.
Compared to rigid alternatives, SurePOUCH packages are created with thinner gauge and lighter polymer materials, resulting in significant cost, resource and energy savings throughout manufacturing and transportation, says Bosch. It produces stand-up flexible pack styles with spouts that give manufacturers multiple packaging options for liquid and viscous products. Other exhibits of Bosch include Bosch's new Pack series of horizontal form fill seal (HFFS) machine, Pack 301 ID inverted long dwell flow wrapper (ID).
The Pack 301 ID gently transports products by carrying them on top of the film from the former through the cutting head, minimizing jams and protecting package appearance. The machine's long dwell sealing system allows for longer sealing times compared with traditional rotary cutting heads, which results in higher seal integrity and air-tight packages, according to Bosch. In addition to fresh produce, multipacks and other soft products, the gentle product handling and secure seal of this new HFFS machine make it suitable for pharmaceutical, meat and dairy applications.
The company is also exhibiting the latest addition to its Pack Feeder 4 family, the Product Stacker Collator (PSC). This machine integrates with Bosch's Pack series of horizontal flow wrappers to enable multi-count packaging of either raw or wrapped products. Its design utilizes a variety of carrier heights to lift the products and place them onto a static shelf to create multipacks up to five layers high before the stacks are conveyed to a horizontal flow wrapper for overwrapping. Pack Expo 2012 will be held in Chicago, the US from October 28-31.
SOURCE : http://www.adsalecprj.com/Publicity/MarketNews/lang-eng/article-126880/Article.aspx