At Plastimagen 2016, Wittmann Battenfeld will present its comprehensive range of injection molding, automation and peripheral equipment.
In the area of  injection molding machines  and equipment, the entire range of the PowerSeries machinery from Wittmann Battenfeld will be showcased.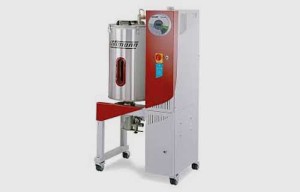 On a MicroPower 15/10, a machine which was specially designed for the production of small and micro parts, venous clamps made of polyoxymethylene (POM) with a part weight of no more than 0.003g will be manufactured with a four-cavity mold supplied by Microsystems UK within a cycle time of only 4s.
The parts are removed by a W8VS2 Wittmann robot and passed on to a camera integrated in the production cell and in the machine's control system for quality inspection. The parts are subsequently separated according to cavities and stacked in a stacking module. The injection, quality-inspection and deposition all happened inside the clean room.
Another application from the medical technology sector will be demonstrated on a machine from the servo-hydraulic SmartPower series. On a SmartPower 120/525, Wittmann Battenfeld will show the production of insulin pens from polypropylene (PP) in a 48-cavity hot runner mold supplied by Hasco, Austria.
To demonstrate its multi-component technology, on an EcoPower 180/350H/350V, a flange made of high density polyethylene (HDPE) and polyamide (PA) will be produced using a 1+1-cavity mold supplied by Polar-Form Werkzeugbau GmbH, Germany.
The insider cell incorporates a W821 robot from Wittmann for parts removal and depositing, as well as a Wittmann temperature control system and a conveyor belt.
As for large machine series, "organic sheet" component will be produced on a MacroPower 450/2250 with a single-cavity mold from Georg Kaufmann, Switzerland. The mold is equipped with a hot runner with needle shut-off, an edge folding slider for in-mold forming of the organic sheet and a punching die to punch out an aperture in it.
The automation system developed by Wittmann Robot Systeme in Nuremberg, Germany is custom-made for this application and comes with a station to feed the organic sheets cut to size, a heating station to heat the organic sheets with heating elements supplied by Krelus, Switzerland, a multi-functional gripper with a needle gripper to pick up the heated organic sheet, a suction unit for finished parts removal and a Wittmann robot W843 pro.
The W843 pro positions the natural fiber mate in a heating station via the integrated B-C servo rotation axis. After the heating-up phase, the W843 pro removes the mate and puts it into the fixed part of the mold. Afterwards, it takes the finished part from the ejector side of the mold and places it on the conveyor.
The injection molding presentation will be rounded off by a SmartPower with 600kN clamping force and an EcoPower with a clamping force of 3,000kN. On the SmartPower 60/210, a pump head will be manufactured from polypropylene (PP) with an eight-cavity mold from Hasco.
All machines will be loaded by a central conveying system from Wittmann.
In addition to the robots and peripheral equipment integrated in the injection molding machines, a number of standalone equipment are also presented.
Exhibits from the automation sector will include robots from the new Wittmann Pro series, in particular the models W833 pro and W843 Pro.
From the peripheral equipment sector, material dryers from the DRYMAX E and DRYMAX Aton series will be exhibited, as well as conveying equipment from the FEEDMAX series and TEMPRO temperature controllers.
Among them, the drying wheel dryer DRYMAX Aton is one of the highlights. This dryer consists of numerous separate chambers loosely filled with desiccant balls. In conjunction with the innovative 3-save process, this not only ensures efficient use of energy, but also a continuous drying process with a constant dew point.
Moreover, the use of conventional desiccants instead of honeycomb wheels permits low-cost exchange of the desiccant without having to replace an expensive, complete wheel.
On a separate display board, the Wittmann Group's solution for integrating robots and peripherals into the UNILOG B6 machine control system will be demonstrated, which was introduced to the market under the name of WITTMANN 4.0.
Via the machine's control system, several machines as well as robots and peripherals connected to them can be linked together and operated via the uniform Windows user interface, which enables interaction between the individual appliances.
In this way, the entire manufacturing process, including material feeding and blending, temperature control, automation and injection molding can be optimally coordinated and tracked.
Website:                                        www.adsalecprj.com