In 1964, the youth movement in America was a new and strong force to the automotive industry. There were many baby-boomers that were not quite old enough to drive or could not afford a GTO, but still wanted to build the car of their dreams … possibly even the one they had seen cruising up and down the main streets of America.
Luckily America's hobby, department, and hardware stores were stocked full of the latest 1:25-scale model-car kits. These kits retailed for $1 to $1.50 each, and the model-car industry exploded as hobbyists flocked to purchase the all-new plastic  kits.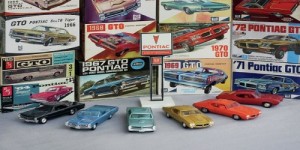 Detroit automakers made a special deal with the model-car companies: They would release top-secret photos and scale models of the upcoming designs ahead of time so the model companies had the latest offerings on store shelves for the September new-car introduction. For this top-secret information, the model companies were more than happy to produce preassembled promotional models for the dealerships to have on display and sell.
These promos were pre-assembled with fixed hoods, an engine plate, and special tires and wheels that made them easy to roll. They were available in several models and colors to replicate the real cars on the showroom floor. This made them valuable sales tools for the dealership. Many were given out to children when their parents purchased a new Pontiac, and because of this, these promotional models had a high attrition rate, making some of them very collectible today
The boxed 1:25-scale, injection-molded plastic model kits that sold in stores were called annuals. These kits, unlike the promos, were produced mostly in white plastic with opening hoods, and fully detailed engines and interiors. The white bodies could be painted to match his or her favorite car. These boxed kits sold year-round; in September when the new vehicles rolled onto the showroom floors, the latest annual kits would show up on retailers' shelves.
Aluminum Model Toys (AMT) of Troy, Michigan, was the major model-car producer from the late '40s through the '50s, and produced Pontiac promos and successful model kits. AMT made the first GTO model. Because the molds are made ahead of time, and the GTO was a secret, only the LeMans promo was made available in '64 and the first kit was a LeMans convertible. It wasn't until after the GTO was available to buyers that a '64 GTO hardtop kit (a reworked LeMans model updated with the special GTO scooped hood and identification) arrived to retailers. This kit also featured a selection of parts from customizer George Barris.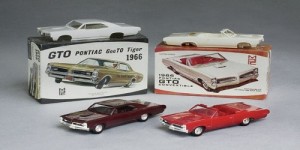 For 1965, it was business as usual for AMT. The company produced several colors of the highly successful GTO in promo form as both hardtop and convertible configurations. The '65 GTO came as a 3-in-1 kit that could be built as a hardtop, a convertible, or a custom hardtop that looked a lot like the '66 fastback-roof design. (Maybe it wasn't such a good idea to show early design work to the model companies!)
In 1964, a small group of AMT managers and workers left and formed a new model car company, Model Products Corporation (MPC) of Mt. Clemens, Michigan. It convinced Chevrolet that it could produce a more detailed Corvette model, so the '64 Corvette was the first MPC model available, and the first model to have both AMT and MPC versions at the retailer.
MPC produced a better model kit than AMT. Pontiac noticed and awarded MPC with the '66 Pontiac lineup. The '66 GTO promos and kits set a new standard. Looking forward, MPC manufactured GTO annuals and promos through '72. There would be no '73 and '74 GTO kits manufactured.
MPC made GTO racing model kits, too, starting with the '67 Mr. Unswitchable funny car and ending in '71 with the street funny GTO. The most famous of this funny-car series was legendary Pontiac racer Arnie Beswick's '69 Super Judge. MPC also produced a '70 GTO roundy-round car, David Pearson's '71 NASCAR GTO (in clear plastic), and a Pro Stock version of the '72 GTO named Screamin' Eagle. These kits were not produced year-round—they were only made for a limited time and discontinued, making them much rarer than the annuals.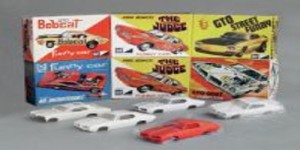 MPC went into the slot-car business in 1966, mounting promo bodies on an all-new aluminum chassis with a specially designed Dyn O Sidewinder engine. These toys came in several versions and colors and retailed for about $13. The MPC GTO slot car was also available in 1967 with a new frame and Dyn-o-Can engine design, but sales had fallen off drastically that year, making them much rarer than the '66 model.
One of the GTO's many promotions involved Thom McAn shoes. This retailer sold a product line of shoes "to fit the Tiger" and gave away '66 and '67 GTOs as grand prizes in the promotions. Every Thom McAn shoe store had a special 1:25-scale, gold GTO hardtop promotional model on display with special decals on the side. Since these were true promotional models and not for sale, many went home with the shoe salesmen. Very few survive today.
Airfix from the United Kingdom (in partnership with MPC) produced the rarest annual GTO kit in 1967. Airfix was a major hobby supplier and purchased kits from other suppliers outside the U.K. and repackaged them for sale to fill a void in its product lineup. In this case, the artwork on the box was from the '66 GTO brochure with a color change and airbrushed to look like a '67 GTO. Airfix sold several repackaged MPC kits outside of the USA. Another 1967 rarity is the black GTO hardtop promo. This special promo was built and handed out at a top-level engineering meeting headed by Pontiac General Manager John Z. DeLorean. It is rumored that only a few hundred copies were ever produced.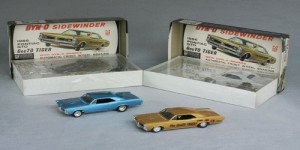 In 1968, MPC joined forces with Cox to produce one of the rarest GTO collectables. Cox was known for its slot cars and flying, scale-model airplanes powered by a small piston-driven engine. This baby blue '68 GTO (powered by the high-performance .020 engine) retailed for about $20. It did not sell well. Very few were produced and most were destroyed from use, just like the Cox airplanes. These GTO models suffered many crashes (the fuel also tended to eat into the plastic of the promo bodies), making them one of the most sought after GTO scale-models today.
A red GTO promo was produced in 1970. It came in a box marked "GTO 500 Prize Code," and was given away at Pontiac dealers when a person signed up for a promotion to win one of six '70 GTOs. By 1971, the GTO promos were only available in two colors: Quezal Gold and Canyon Copper. A third-color GTO promo was produced in Carousel Red, but it was not for distribution to the dealers.
This model was produced for an architecture firm that wanted real-looking car models for their scale architecture models. The firm had four special color models made from the MPC lineup—one was a Carousel Red '71 GTO. These are highly collectable and difficult to find in perfect condition. Almost all of the original '64-'72 GTO annual kits were reproduced in following years. Let's take a look at some of the most popular of the original GTO scale models.