Aachen, August 1, 2013 – Managing costs, quality, and efficiency in every product design stage are the challenges to rise on the injection molding market. Moldex3D is dedicated to assist part designers and mold makers to develop and produce higher quality products in form, fit and function at lower costs and reduced times-to-market.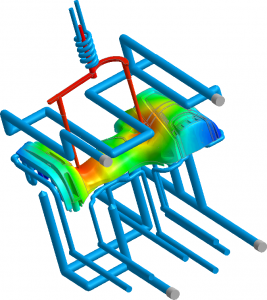 The latest version Moldex3D R12 provides new capabilities and features like faster modeling, dynamic molding process supports, and continuous efforts on prediction and optimization enhancements. To prevent defects or warpage, Moldex3D enables the user to visualize the melt flow behavior injected into a mold cavity and predicts potential molding problems upfront.
It helps users make and validate design changes to reach the optimal plastic design or process conditions more efficiently, highly reducing time and money inputs to repeated cost-wasting mold trials and fixes. With the professional support of Moldex3D material and machine database, more effective mold revision and optimization can be successfully achieved in the earliest phase of the plastic injection molding process. Furthermore, Moldex3D helps users solve design bottlenecks and overcome increasingly competitive industrial challenges, such as cost down, lightweight design, energy saving, or environment protection.
Enhanced Modeling Performance and Efficiency
Moldex3D supports more special shaped gates, runners, and runner ends, such as cashew gate with arc geometry, tapered ejector pins, or lock pin design. The enhancements on mesh quality and density allow users to build more realistic 3D mesh of challenging runner systems, further increasing the accuracy of plastic modeling and simulation. Comprehensive auto re-meshing capabilities, if gate locations or designs changes, are now much easier for users. Additionally, users now can directly import a CAD model in Parasolid format.
Speeding the Processing Capabilities up to 80%
R12 brings up to 80% increase in the computing speed of the filling analysis. The computation time for a model with one million elements will be shortened by nearly 50%. With the support of multi-core, multi-CPU, and multi-PC parallel processing capabilities, users can accelerate analyzing high-precision or large-size models generally with millions of elements by scheduling and assigning jobs to multiple remote computing farms.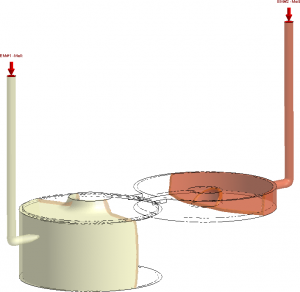 Expanded Plastics Insights to Meet Market Demands
The new release of Moldex3D provides innovative new capabilities, such as flow behavior visualization, cooling optimization, fiber orientation, stress evaluation, injection compression molding simulation, encapsulation molding simulation, etc. The advancements result in more accurate simulations whether standard or special plastics injection molding processes. The software package furthermore supports advanced venting analysis, fiber breakage prediction, and annealing analysis.
The venting analysis provides trapped air temperature and pressure results to maintain mechanical strength and evaluate the quality of welding lines. The fiber analysis enables the designer to easily check, if high shear stress inside the cavity or near the gates will cause fiber breakage and damage the strength of a part. Post-molding annealing process analyses prevent deformation and stress cracking of the part. Furthermore, part designers benefited from new specific industrial molding simulation solutions, including Compression Molding, Powder Injection Molding, and Bi-injection molding.
Simplifying the Designer Workflow by Integration into Design Environments
In order to simplify the workflow for designer and to enable them for a fast, detailed first functionality impression of their design, Moldex3D offers intuitive and easy-to-use all-in-one analysis tools for integration into different design environments. Using Moldex3D eDesignSYNC, 80% of potential molding issues can be predicted and addressed upfront. Designer can complete the simulation workflow from component modeling to result displaying in a single window.
A newly-added slicing and clipping function supports the visualization of analysis results in various directions and better realize quality variations of final parts. The advisers for cooling time, sink mark, length-to-thickness (L/t) and gate location will guide users to perform early design optimization more efficiently. The software package is available for the integration into the most important design tools, like Creo, Solidworks, NX, Solid Edge, cimatron and more.
Result Display and Interpretation Capabilities via Wizards
To strengthen internal communication and to guarantee more clearness and transparency of the process, Report Wizards in Moldex3D allow fully-customized reports. Each analysis result items can be selected and exported into PPT, PDF, or HTML format. A comprehensive Online Help provides a detailed guide on process and computation. By simply pressing 'F1' the user gets more assistances or interpretations of the results.
"We have been assisting our customers in boosting troubleshooting capabilities and adding higher value to the plastic design-to-manufacturing process. In addition to expanding comprehensive industrial molding solutions, this release emphasizes on how Moldex3D helps users enhance current work performance and efficiency." said Dr. Venny Yang, President of CoreTech System.
"With the enormous speeding up of the computing times and the more accurate mold visualization and validation, users are enabled to faster get a look insight the process behaviors, to more efficiently diagnose molding problems and finally, to decide for the right solution, the essential step before their competitors will do it," stated Cristoph Hinse, Managing Director of SimpaTec.
Moldex3D Innovation Talent Award
CoreTech is happy to announce the 2013 Moldex3D Innovation Talent Award Contest. This contest addresses all Moldex3D users. It is divided into two categories: for professionals and for students. All success stories are very welcome, applying Moldex3D simulation software for design verification and optimization. Whatever it is a detailed analysis of a single product application or an integrated use of the whole portfolio of the Moldex3D software family. Awards will be given for Grand Prize and 2nd through 4th places. Besides the contest trophy money, the winners will enjoy global appreciation, showing potential customers and strategic partners their value and capabilities. Registration deadline is October 11, 2013. The winners will be announced on December 16, 2013.
For more details, please have a look at www.simpatec.com