• Drinktec 2013: electric Allrounder 720 A produces twelve high-quality juice container closures in six seconds
• Electric cube-mould application increases production efficiency
• Arburg offers Allrounder injection moulding machines specially designed for cube-mould technology.
Lossburg. Arburg will focus on production efficiency at the Drinktec 2013, which takes place in Munich, Germany from 16 to 20 September. Together with partner Foboha, Arburg will present a electric cube-mould application on exhibition stand no. 420 in hall B3. An electric two-component Allrounder 720 A will produce twelve juice container closures in a cycle time of six seconds. In this application, fully electric means that both rotation of the cube and the linear mould movement are powered electrically.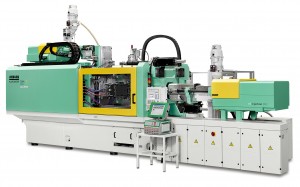 The advantages of cube-mould technology for the packaging industry are clear. High-quality moulded parts can be manufactured in very short cycle times because four sides of the cube mould can be used for production. This permits individual manufacturing steps such as mould filling, cooling phase or part removal to run simultaneously. An increase in productivity of up to 100% is possible as a result. A fully functional moulded part is produced by combining cube-mould technology and two-component injection moulding.
High-quality two-component closures
The Drinktec exhibit is a two-component version of the Allrounder 720 A with a clamping force of 3,200 kN, which is driven fully electrically and operates with a 12+12-cavity cube mould for juice container closures from Adval Tech-Foboha. PP and HDPE are the materials processed. The large size 800 injection unit operates horizontally, while the small size 400 injection unit is also horizontal and is mounted on the machine's moving mounting platen. Both rotation of the cube and the linear mould movement are driven electrically.
The cube mould rotates through 90° four times, with all four production steps taking place simultaneously. The pre-moulded parts are produced in the first station and cooled in the second one. The second component is injected at the third station. This is followed by a further rotation to eject the finished parts with the mould closed.
Specially designed Allrounder injection moulding machines
Arburg offers Allrounder machines from size 630 upwards, which are tailored to requirements of the mould technology. This involves arrangement of the two injection units, adapting machine bases and the platen distance as well as an additional guidance system for the cube and application-specific software options. Depending on machine size, horizontal injection units are available in modular format with sizes from 400 to 4,600 and travelling injection units are available in sizes from 170 to 2,100.
Selogica: all processes managed centrally
The entire cube system together with the servo-electric rotary units on the central block are controlled and monitored by the Selogica control system, including the sub-sequences closing, opening, rotation, locking and ejecting. This configuration saves additional time as a result. All mould functions are also fully integrated in the Selogica. The movement sequences are precisely coordinated and harmonised through the individual selection of starting conditions. The system operator therefore has direct access to all process parameters.
Cube-mould technology increases production efficiency
Depending on the system, cube-mould technology offers many more cavities over the same clamping surface compared with conventional moulds. A specific level of production can therefore be achieved with fewer or smaller machines, which increases the efficiency of production overall and reduces the machine floor space. This results in significant time, volume and economic benefits in the series mass-production of parts, which are of crucial importance for the packaging industry in particular.