Independent food consortium Caterforce has selected RPC Containers Oakham to manufacture the packs for its latest range of products for the catering industry.The 200PS 2.5L injection-moulded tub is being produced in white PP for the Chefs' Selections by Caterforce range of fruit fillings and sauces – the first time the catering giant has sourced containers from RPC Oakham.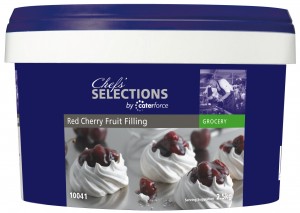 The container is also decorated at the Oakham site using in-mould labelling (IML). The full colour label matches those used across the Chefs' Selections range. In addition to the ease of use in a catering environment, the lightweight, shatterproof characteristics of the plastic containers give them a safety advantage in the kitchen.
The RPC Oakham range is available in sizes from 1.8-25L and although Caterforce has chosen a no-handle option, it can also easily be fitted with a plastic or metal handle.
Established in 1991, Caterforce is a buying and marketing consortium working with seven of the UK's leading independent foodservice wholesalers. With a combined turnover in excess of £300 million, Caterforce wholesalers offer an extensive range of branded frozen, chilled and grocery products, together with a comprehensive range of own label products. Chefs' Selections offers an ever growing range of products designed specifically with chefs in mind and the fruit fillings are just a few of the products available in the ever growing range.
Nick Redford of Caterforce says: "The RPC Oakham containers are ideal for the Chefs' Selections range, and the option to decorate using IML made everything easier."