Following several weeks during which import prices for LDPE and LLDPE moved higher, while HDPE prices witnessed little change in China, both LDPE and LLDPE have gained a premium over HDPE as per the pricing service of ChemOrbis.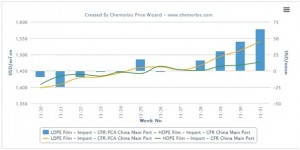 HDPE film prices traded at a premium over both LDPE and LLDPE from early April to early July before LDPE gained a premium and HDPE continued to carry a premium over LLDPE film until this week. The current week is the first since April of 2011 in which both LLDPE and LDPE film hold a premium over HDPE.
HDPE film prices on a CFR China basis had carried a premium over LDPE film prices from late May of 2012 until early July of this year. Prices traded close to par from early June to mid-July before LDPE prices moved decisively ahead towards the end of last month. LDPE traded at a premium of around $15/ton over HDPE in mid-July and the premium has since expanded steadily and currently stands at around $65/ton, according to data from ChemOrbis Price Index.
HDPE prices held a premium over LLDPE prices from the start of May until the current week of 2013. The discount on LLDPE reached a high of around $60/ton towards the end of May, after which the gap began to close. LLDPE prices currently carry a premium of around $10/ton relative to HDPE.
According to ChemOrbis, players attribute the loss of premium for HDPE to tight supply for both LDPE and LLDPE as compared with regular availability for HDPE. Unexpected shutdowns at some LDPE plants in Asia combined with the fact that there are few new LDPE capacities relative to the number of new HDPE and LLDPE capacities has been pulling LDPE and LLDPE prices higher over the past few weeks, while resistance from buyers and satisfactory supplies have prevented similar increases from taking place in the HDPE market.