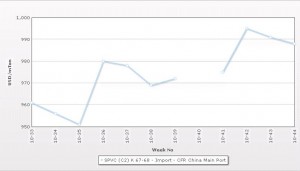 In China's PS market, GPPS prices followed a stable to softer trend and they recorded decreases for HIPS over this past week since spot styrene costs lost ground the week before, as per the pricing service of ChemOrbis. Overall demand is reported to be very stagnant inside the country but the sentiment in the market has started to reverse direction on the back of the firming styrene and benzene costs.
Asian spot styrene costs gained $30-40/ton over this past week while benzene prices are up by $55/ton over the same period. Meanwhile, November benzene contracts moved up by $45/ton in Asia when compared with October. Sellers report seeing good demand from Chinese buyers for prompt benzene cargoes.
In China's import PS markets, players prefer to do back-to-back business as they lack confidence regarding the future trend but some have already started to pronounce that prices might see some increases, despite still weak demand, as upstream costs are likely to pull the offer levels up.
A source from a global PS producer, who kept their import offers stable this past week, reported that they are not willing to give any discounts on their dollar based prices due to the higher styrene costs regardless of the thin demand.  A trader noted, "We received steady offer levels from our global PS supplier due to their limited supplies. They did not give any discounts even in the face of thin demand."
A source from a South Korean producer told ChemOrbis, "Our HIPS prices saw a $20/ton drop this past week given the unhealthy demand. However, styrene costs are rising and this situation might cause a shift on the current soft price trend and offer levels might follow a stable to softer trend."
Inside China, stock levels were reported to be insufficient. A distributor remarked, "Our supplier kept their GPPS prices stable up until now but in line with higher styrene costs they might revise up their offer levels next week. Since we are not very clear about the upcoming trend, we prefer to maintain our stocks at low levels."  Another distributor commented, "Prices stabilized towards the end of last week following the mid-week increases witnessed in spot styrene prices.  We think that the market will follow a stable to slightly firmer trend in the coming week."