The Hong Kong Trade Development Council (HKTDC) predicted that the city's exports will increase by 5.5% in 2014 as the global trade environment is poised to gather pace.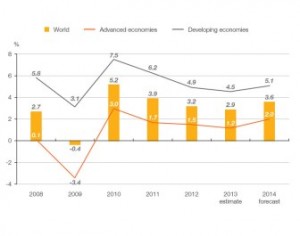 By contrast with the past few years, the major developed economies should expand simultaneously and at a more sustainable pace, according to Daniel Poon, Principal Economist (Global Research), HKTDC.
Among the traditional markets, he believes the US looks the strongest and most resilient. Despite concerns over the possible withdrawal of massive monetary easing, the US economy should remain on track for recovery, against a backdrop of stronger employment, an improving housing market and gains in asset prices.
The EU, in light of the recent stabilization of the debt crisis, is also showing tentative signs of recovery, given its ultra-loose monetary policies, widespread fiscal consolidation, as well as the structural reforms in a number of countries, notes Mr. Poon.
Germany, where exports will increasingly benefit from rising demand outside the EU, remains the bright spot, although gains are now spreading to France and even to the more debt-ridden nations, notably Italy. Outside the Eurozone, the outlook for the UK has been buoyed by its revitalized housing market.
For Japan, Abenomics, its new stimulus policies, should set the country on course for a firmer recovery, despite its continued tensions with China, according to the forecast. Aggressive monetary easing should keep the yen weak, boosting Japan's exports amid a rise in external demand.
Following the scant 3% rise in 2012, year on year export growth of Hong Kong showed just a 3% advance in the first nine months of 2013, with the increases hovering between 2-4% in consecutive quarters due to sluggish demand from the traditional markets.
Source: http://www.adsalecprj.com/Publicity/MarketNews/lang-eng/article-67010100/Article.aspx