At the Engel Varysoft Day held on December 4, the Austrian machinery supplier partnered with Georg Kaufmann Formenbau and other companies to demonstrate a manufacturing cell used to produce soft touch components for the automotive industry under the Varysoft process.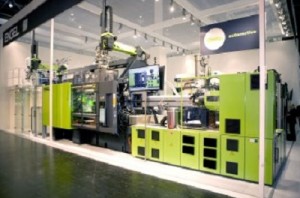 Compared to other technologies, Varysoft offers even greater softness while allowing undercuts in the component design, said Engel. The manufacturing cell presented on Varysoft Day integrates three steps in an Engel duo 3550/650 pico combi M injection molding machine.
Highly automated dashboards designed by the Hyundai Kia Automotive Group were created in a single work step from a thermoplastic substrate, a decorative overlay and a layer of polyurethane (PU) foam.
The films were pre-heated in an integrated infrared oven. Parts handling is performed by an Engel viper 40 double linear robot and an Engel easix multi-axis robot, which also cuts the superfluous film with an ultrasonic cutting head. The finished parts, with high surface quality, support the trend towards lightweight construction, noted Engel.
To save material and weight, MuCell technology from Trexel is used in the manufacture of the thermoplastic components. The other system partners behind the manufacturing cell are BASF Polyurethanes, Hennecke and Herrmann Ultraschalltechnik.
"We think the first series applications will come about in around three years," predicts Michael Fischer, Sales Manager (Technologies) at Engel Austria. "At the Varysoft Day event we showed we are not far away from series production. Our guests were impressed by the high stability and reproducibility offered by the highly integrated manufacturing cell."
According to the machinery supplier, more than 60 attendees joined the event, many of whom were from international automobile makers and supplier firms.
Source: http://www.adsalecprj.com/Publicity/MarketNews/lang-eng/article-67010104/Article.aspx