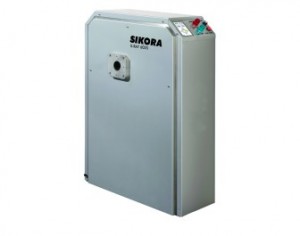 Germany-based Sikora AG has designed the X-RAY 6035 measurement system for single layer products to be even more compact than before.With the X-RAY 6035, the engineers of Sikora have successfully reduced the dimensions by 20%. "Saving space is a critical aspect during the integration of a new device," says Harry Prunk, CEO of Sikora. "If the line has to be rebuilt it can be expensive."
According to the company, X-RAY 6035 is a cost-effective yet powerful instrument for continuous measurement of inner and outer diameter, wall thickness and eccentricity of single layer tubes and hoses. Besides various products made of polyethylene (PE), high density PE (HDPE), polyvinyl chloride (PVC) and ethylene propylene rubber (EPR), also foamed pipes and hoses of ethylene propylene diene monomer (EDPM), polyamide (PA), rubber or silicon can be measured reliably.
In the ongoing process the product is x-rayed while the data of the high resolution CCD sensors provide the basis for preparation of the measured values in a split second. The production data is displayed on a 7″' monitor with touch screen operation that is integrated directly into the measuring system.
The operator has all the data required for accurate centering of the crosshead. The optional combination with the processor system ECOCONTROL 600, 1000 or 2000 enables the automatic and reliable control of the extruder speed or line speed, taking account of the minimum values, said the company.
This technique requires no calibration. "The device works regardless of the ambient conditions, such as the temperature of the product to be measured," explains Mr. Prunk.