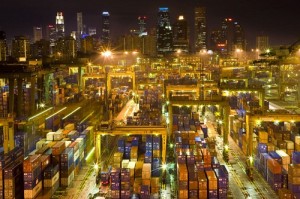 Players in Indonesia report that sentiment within the country is bullish and that the country has seen even larger increases over the past few weeks than other countries in Southeast Asia as per the pricing service of ChemOrbis.  Polymer sellers are generally confident that this bullish trend will continue into the coming week.  Local media report that Indonesia is attracting increased interest from investors at the start of 2012 after the country's debt rating was upgraded from Ba1 to Baa3 by Moody's Investor Service in late January.
Domestic PVC prices have been announced higher for February and producers are already beginning to talk about further price increases for March.  "Local demand is strong these days and we are struggling to meet the local market's needs.  Given stronger domestic demand, we have decided to reduce our export allocations for February," a source at an Indonesian PVC producer reported.
A source at another domestic PVC producer stated, "We are seeing good demand at our higher February prices and are planning to announce another price increase for March as we believe that demand will remain healthy in the coming weeks."
Players in the country's PP market reported that local prices are moving higher for a third consecutive week, with several producers reportedly announcing multiple price hikes over the course of the week.  "We lifted our prices again this week as we have only a very limited amount of material to offer to the spot market for now," reported a source at a domestic producer.  "Local demand is quite limited these days," reported a converter manufacturing plastic bottles and containers for the pharmaceutical industry.  "Our end product demand is healthy these days," the converter added.
A converter in the packaging sector commented, "We have received several price increases from different domestic producers once again this week.  Although we believe that prices will continue to firm up over the near term, we are not in any rush to make new purchases as we are feeling comfortable with our current stock levels."  A converter in the household products sector stated, "Spot PP prices have risen to levels far above the prevailing local contract prices this week.  We think that sellers will have a difficult time maintaining their current price levels as prices in Indonesia have raced ahead of the prevailing price levels in China and in other Southeast Asian countries."
Indonesia's domestic PE market also witnessed significant price increases this week.  "We announced higher prices for LLDPE film, HDPE film and HDPE yarn to the domestic market this week to keep pace with other producers' price increases," reported a source at a domestic producer.  Spot availability for PE is also said to be limited in the market following some unexpected production disruptions in late January.  A converter in the packaging sector reported, "We received significantly higher PE prices from the local market this week for all products except HDPE injection, which was priced at levels unchanged from the prior week.  We are feeling comfortable with our stock levels for now and therefore we are in no rush to make fresh purchases."