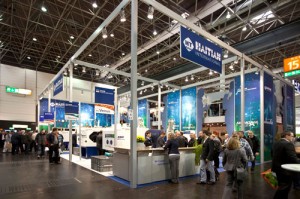 As one of the premium brands of all electrical injection molding machines, Zhafir Plastics Machinery has founded its subsidiary in India — Plastics Machinery India Private Limited Founded in 2005 in Germany, the Zhafir Group with its present two manufacturing and technology facilities in Ebermannsdorf/Germany and in Ningbo/China and the now newly founded sales and service center in Mumbai/India represents the premium brand of Haitian International — the world's largest manufacturer of injection molding machines.
In 2010, all together approx. 30,000 machines were delivered to customers and in the first half year of 2011 this figure could be repeated with more than 15,000 machines sold despite a difficult market environment. Zhafir is one of the 3 brands of Haitian International and its strategic objective is to be able to provide all-electric machines at the price of hydraulics and to develop new technology in the field of fully electric machinery. The results turned very positive in the recent years.
With the Venus Series, Zhafir Plastics Machinery is supplying all-electric technology for the demanding standard. This is precisely why it is also positioned at the price of a traditional, highly productive, hydraulic machine to make market entry into this resource saving, innovative technology economically possible for customers.
At the end of 2011 the Zhafir subsidiary in Ningbo/China enlarged the production area from 12,000 to 18,000 square meters to cover rising demand and reduce delivery times. Zhafir contributed to the half-year result of Haitian International an increase in turnover at almost 80% compared to the half-year 2010. At the last K-show, the new Zhafir Mercury Series, which has been developed for the recent 4 years was launched and it received a lot of interest and discussion.
There were already orders confirmed for the first 30 machines. They are primarily intended to be a test for this completely new approach of technology. Certainly; the machines must first build up trust in such a traditional market. In order to accumulate more field reports and references, Zhafir aims to place the Mercury with innovative and future oriented processors. Demand is already pleasantly high among the global players. A customer from Belarus has already made the decision to order seven Mercury units.
"With our new Mercury Series we are also presenting a machine that sets new standards not only in speed and precision. It also creates opportunities for the processing of complex and new materials and can thus be used in difficult areas of application and helps to open up new fields of application for plastic as a substitute for metal and other raw materials as well as for totally new parts.
" says Professor Helmar Franz, CEO of Zhafir Plastics Machinery and a member of the Haitian International Executive Board, "so far, 30 units have been ordered and will now serve as test machines and be evaluated from top to bottom, primarily by large international corporations."
"The demand for all-electric solutions increases from year to year. This is the result of increased costs of energy and of raw materials among other things, which can be counteracted effectively with the use of all-electric technology."
comments Professor Helmar Franz, "Zhafir has opened its first worldwide sales and service center of such kind in India, expecting an increasing demand for this technology to contribute to the rapid development of the plastics industry in India. Considering principles of sustainability, this expected development is based on rising living standards and consumption and on the need of resource saving manufacturing in India" The new office Plastics Machinery India Private Limited is located in Mumbai.
It is the first regional office of Zhafir Group in the world which means the group has put big attention to this potential market. In the course of optimizing the sales and service in India, the new office will start to operate in spring of 2012. There will be 18 people in the team on request. On sensate agreement Zhafir India will also serve as bridge between Haitian International and Huayuan Viet Nam and the India market with its professional experts.