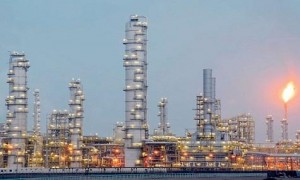 During the Seventh MIT Pan Arab Conference in Dubai on January 19, Mohamed Al-Mady, SABIC Vice Chairman and CEO, said that the SABIC experience is truly reflective of what economic benefits can accrue to the national economy from manufacturing in his keynote address.
The theme of the keynote address was "Manufacturing for Growth, Jobs and Diversification". As one of the world-leading manufacturer, SABIC has an infrastructure of 19 production complexes in Saudi Arabia alone, and is a strategic enabler of growth and job creation, playing a decisive part in Saudi Arabia's socio-economic development.
In 2011, SABIC's direct value-added contribution to the GDP was about 2%. Its private sector GDP contribution was about 9%, and its contribution to the industrial non-oil sector GDP was 34%. The role of manufacturing, Al-Mady commented, continues to be deeply embedded in Saudi Arabia's economic plans. "SABIC has always taken a proactive approach to align with the policies of the government to ensure the desired responsiveness to the needs of the country and its people," he said.
On generating employment for Saudi nationals, Al-Mady said, "SABIC takes the process of employing local talent seriously. I am proud to say that more than half of SABIC's global workforce of 40,000 is based in Saudi Arabia, with a Saudization rate of nearly 90%. Moreover, we have gone beyond our own manufacturing units to localize jobs. We are working with our contractors to maximize their employment of capable Saudis. In close collaboration with local partners in government, SABIC has also developed a program to engage and train 5,000 Saudi high school leavers to take up a wide variety of manufacturing and office support positions in SABIC."
When stressing on the importance of education in creating jobs, Al-Mady said that the company's in-house training programs at its plants support Saudi Arabia's national efforts to localize industrial jobs. SABIC also has an ambitious program to annually hire high school graduates with high potential, training them thoroughly in manufacturing operations before deploying them in the plants in Saudi Arabia.
Al-Mady also made a special mention of SABIC's new institute in Yanbu to train Saudis with a high school education or above in SABIC's newly established elastomer venture. He explained that these efforts run parallel to SABIC's executive training programs at the company's newly-formed SABIC Academy at its headquarters in Riyadh. "To continue our journey of success, we have invested in the Academy to focus on continuous learning, strive to be an employer of choice, and develop and share the expertise of our people across the business. We invite world-class subject experts and business leaders who give an insight into the most recent knowledge in several fields, including manufacturing excellence. Our people get the right international exposure to enable them to take up senior-level positions… and grow with SABIC, as we grow," he added. The Dubai event was the seventh in a series of pan-Arab conferences organized by the Arab Alumni Association and the Massachusetts Institute of Technology to make an impact on the Arab region by promoting dialogue between different groups including Arab ministers, policy makers, regional and global industry leaders, and world-renowned professors.