Entex has expanded dramatically recently, adding a new 3,100sqm production hall, 1,000sqm of office space as well as an additional technical center at its existing Bochum, Germany site this year.
As the inventor of planetary roller extrusion technology, Entex Rust & Mitschke GmbH is involved in a wide spectrum of businesses, from plastics and rubber to chemicals and even food processing.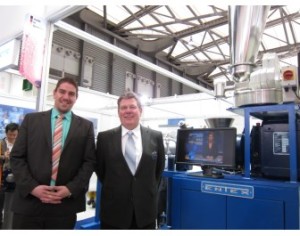 "We are moving towards the direction of specialty engineering," described Michael Batton, Overseas Sales Director, Entex. "It means customized machine for specialty products."
He said that its rubber recycling technology, with high efficiency in the devulcanization process, has become more internationalized and various lines have been sold in Europe, the US and India.
Mr. Batton and Sebastian Rust, son of Entex's owner Harald Rust, also mentioned that the company is building machines for the reaction of polymerization for the chemicals industry.
In addition, the food industry is, as described by Mr. Batton, "the market of the future".
Last year, Entex established a new technical center in Shanghai. The technical center serves as a demonstration site for new applications, but it also functions as a warehouse for spare parts and an assembly site for existing market like PVC.
Its Chinese office is being moved there too, says Mr. Batton, so that "all Entex people are gathered under one roof", adding that the company is looking to double the footprint in the near future, which currently has about 600sqm of space.
In 2013, Entex recorded a slower growth compared to the previous year. Mr. Batton predicts a bounce back this year, depending on its adventure in "the new markets".