CHINAPLAS 2014, held from April 23-26 in Shanghai, China, drew down the curtain with a 14.3% increase in visitor number.
A total of 130,370 visitors and 3,067 exhibitors attended CHINAPLAS 2014, with both figures being a new record for the Asia's No.1 and World's No.1 plastics industry trade fair.The amount of overseas visitors, at 36,841, also saw a record jump of 19.7% compared to the previous year, representing 28.3% of the total visitors in 2014.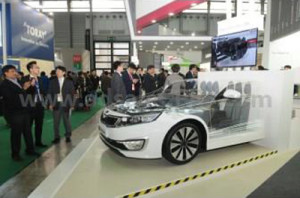 The strong attendance of overseas visitors was contributed from 143 countries and regions, with Korea, India, Japan, Taiwan, Indonesia, Iran, Thailand, Malaysia, Russia and Hong Kong on the top-ten.
63.2% of overseas visitors were from Asia including Hong Kong, Macau and Taiwan, followed by Middle East (11.5%), Europe (10.7%), America (7.5%), Africa (5.8%), and Oceania (1.3%).
For local visitors, as expected, the majority were from Eastern China including Shanghai (70%) due to the proximity of location, followed by Northern and Northeastern China (12.3%), Southern China (9.1%) and Central, Southwestern and Northwestern China (8.7%).The amount of domestic visitors, which stands at 93,529, saw a 12.2% year on year increase.
Helmut Heinson, Managing Director, Arburg, comments, "We are experiencing a growing demand of high sophisticated plastics and injection molding applications in China. For this reason, CHINAPLAS presents a perfect platform for us to present our products, knowledge, and know-how we have in this field. CHINAPLAS has developed into the second largest plastics show in the world and therefore it is an ideal venue to present high technology state that we are in."
57.1% of visitors are at management level, where 23.4% are CEOs, Managing Directors or General Managers, according to an on-site visitors survey.
Giorgio Santella, Chief Marketing Officer at Piovan, the auxiliary equipment supplier, says, "The show gave a very good result with lots of visitors, lots of interesting meetings with the customers at our booth. That's the indication that CHINAPLAS really becomes a global show with the exposure in all markets. Our expectations were very much met and we believe that CHINAPLAS will be growing in the years to come."
Two featured events, "The City of Tomorrow" and "Green Conference" were organized to promote the adoption of sustainability within the industry. "The City of Tomorrow" was an outdoor display structure featuring various interactive displays ranging from green applications, eco-friendly products to energy-saving machinery and industry's best practice, etc.
At Green Conference, influential speakers invited from around the world have shared their experiences and insights on some prevalent topics such as green molding, 3D printing, plastics recycling, and various solutions for end-of-life plastic wastes and was well attended by the audience.
In addition, 70 sessions of technical seminars conducted by exhibitors and the seminar of "Key to Open Up ASEAN Markets" have served the excellent platform for knowledge sharing and promoted cross-industry dialogues.
Visitors were impressed by the quality of exhibitors, with 91.9% of visitors rated "good" or "excellent" on quality of exhibitors, and 82.7% are pleased with the services and venue provided, according to the visitors survey.
The survey also revealed that the increased wage and high operation cost were the most formidable challenges their businesses face among the overseas visitors. Finding the cost-effective alternatives became the imperative for this visit.
Tiago Wietholter, Purchasing Manager, Artecola Quimica from Belgium, says "I can find more cost-effective alternatives, new and different products from suppliers in particular from Asia for our product development. It is very difficult to find alternatives at competitive prices in Europe but CHINAPLAS provides us this opportunity."
In contrast, for many Chinese visitors, finding the new technologies and products to placate their needs for innovation was the main push for this visit.
Ada Leung, Assistant General Manager of Adsale Exhibition Services Ltd, organizer of CHINAPLAS, adds, "Local manufacturers are keen to upgrade their technology in order to counter the stiff competition from increased foreign investment. It therefore creates the pressing demands for high-end technology and innovative materials that CHINAPLAS has offered."
Commenting on the outlook of plastics and rubber industries in China and the exhibition, Ms. Leung casts an optimistic view, saying "Global plastics machine players such as Milacron, Engel, Sumitomo (SHI) Demag, Nissei Plastic and KraussMaffei have unveiled their factory expansion plans in China at CHINAPLAS. Apart from a strong export market, there is plenty of room for domestic market to thrive. In China, per capita consumption of plastics is 45kg whereas USA reaches 145kg, the gap implies a huge potential for China market to continue to grow."
The 29th edition of CHINAPLAS will be held from May 20-23, 2015 in Guangzhou, China.