Munich – June 03, 2014 – Baerlocher, a leading global producer of innovative additives for the plastics industry, introduces innovative liquid mixed metal stabilizers for PVC coatings protecting against microbiological degradation. The new stabilizers named Baerostab UBZ 635 XLP RF and Baerostab UBZ 782 XLP RF trigger a chemical challenge associated with DCOIT* and thus enables the industry to manufacture PVC products that comply with the latest EU regulations on biocides.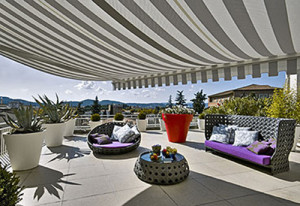 Biocides are widely used for products as sunshades, truck tarpaulins and textile architecture to avoid product degradation by biological effects caused by fungus, mold, and microorganisms. In textile coating, biocides are essential to prevent mold.
Many Biocides banned in EU
Mid 2012, a new EU regulation on biocidal products came into force, which must be fully applied since the end of 2013. As a consequence of the revision, many of the previously used biocides are eliminated and are more and more replaced with DCOIT.
New stabilizer by Baerlocher solves DCOIT associated issues
DCOIT, however, leads to an undesirable chemical reaction with the components of standard stabilizers reducing their efficiency. The new liquid mixed metal stabilizers Baerlocher has now developed are compatible with DCOIT, avoid this undesirable chemical reaction and therefore can be dosed in the same way as the previous systems.
"The development team of Baerlocher is committed to provide our customers with highly innovative stabilizer solutions to ensure compliance with latest industry requirements, legal regulations and policies," says Dr. Stefan Fokken, Head of Research & Development. "We are pleased that we were able to proof our high innovative strength even in this case. That is one of the reasons why our customers trust us worldwide".
* DCOIT= dichloroctylthiazolinon
About Baerlocher:
The Baerlocher group of companies is a leading supplier of additives for the plastics industry. Its offering includes a very broad range of stabilizers as well as other additives for all polymer applications.
Characteristics of Baerlocher are strong customer and employee orientation, as well as innovation and sustainability. Continued leadership in innovation is demonstrated by Baerlocher's support to the PVC industry in the transition from Lead- to Calcium-based stabilizers as well as by the innovative lubricant systems for wood plastic composites.
Baerlocher is committed to the principles of responsible care. The company maintains an ISO 9001 certified quality management system and its environmental management system complies with ISO 14001. Baerlocher is involved in a variety of activities, both in industry and in society. It plays an active role in trade associations and runs a Plastic Additives Museum at the production site in Lingen, Germany. The company also provides opportunities for apprenticeships in various business areas.
The Baerlocher group of companies has manufacturing sites around the globe and operates a sales network covering all major countries.Baeropan, Baerostab, Baeropol, Baerolub and Baerocid are registered trademarks of Baerlocher.
For more information please visit www.baerlocher.com.