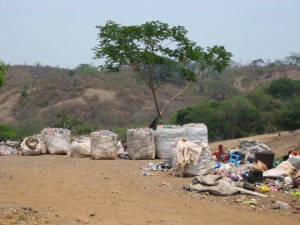 The unchecked use of plastics is endangering the fragile ecosystem in the Alagarkoil hills, say volunteers of the Nethaji Snake Trust, Madurai.
"When we visited the hills on Sunday, we were shocked to see that the number of fruit eating bats, which are an indication of a healthy ecosystem, had reduced drastically. This is very different from what the situation was about three years ago," says P Ramesh, founder of the trust. This hill range, which is about 1,000 – 2,000 feet above sea level, had about seven to eight huge trees, near the shrine of Palamudir Solai, which housed thousands of fruit eating bats. But wildlife activists were troubled to find that now only two trees had these mammals on them.
"There is an unprecedented use of plastics on the hill, with shops selling plastic cups and bags, which were supposed to be banned a long time ago," Ramesh says. He adds that many monkeys in the area were infected with a kind of skin disease, which was an indication of the impact of the rampant usage of plastic. "We had a close look at about 50 monkeys and observed that they had blackened stomachs and also big boils or tumour like swellings on their body," he said.
Though the foothills of Alagarkoil, where the ancient temple is situated, comes under the Madurai range of the forest department, the upper hills, which house endangered fauna and flora including bison, common Langur, monkeys and birds came under control of the Dindigul forest office. Ramesh says that a man, who owns a petty shop near the siddha medicinal park in the hills, was illegally allowing people to drink alcohol in the protected region, after taking money from them. The shopkeeper claimed that he was an employee of the forest department, but had no identity card to prove his claim. The siddha medicinal garden is strewn with empty liquor bottles, says Arun, another activist.
These hills are also home to many rare plants, many of which are showing stunted growth due to the unhealthy environment. "We release rescued animals like pythons, monkeys and other snakes here and the plastics endanger their lives. Besides, we have witnessed many visitors giving food in plastic packets to the monkeys which is very dangerous. The trust has decided to forward a petition to the chief wild life warden in Chennai, calling for the immediate ban of plastics in these hills, he added.
Temple sources say they have no say over the plastic ban. "We try to warn people, but that is as far as it goes. Even the last district collector imposed a ban, but it did not come into effective implementation, they added.
Source : http://articles.timesofindia.indiatimes.com/2012-06-18/madurai/32297974_1_plastic-ban-monkeys-hills