At PU China 2015, KraussMaffei will highlight a number of polyurethane (PU) processing technologies, including modular oval conveyor systems for automotive seats, new mold carriers, CCM technology and the high pressure resin transfer molding (HP-RTM) and the long fiber injection (LFI) process.
Modular oval conveyor systems from KraussMaffei allows for fast and simple mold carrier changes, and therefore shorter set-up times. They are being used in the automotive industry to manufacture foamed seats.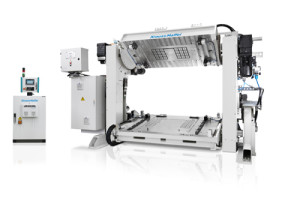 The company has been producing these systems since 2012 at its Haiyan, China facility. The scope of delivery primarily includes what is called dry side equipment, the actual oval conveyor with carriage and mold carriers, safety technology, a vacuum extractor and other peripheral components.
Meanwhile, wet side equipment, mixing and metering systems and mixing heads are shipped from KraussMaffei's headquarters in Munich, Germany.
The company offers a diverse line of mold carriers for processing PU. For example, a double-shuttle mold carrier is used especially for LFI applications, particularly for large components such as tractor roof modules, radiator grilles for trucks and interior paneling. An electric mold carrier is particularly suited for back-foaming of instrument panels. The WinCap mold carrier type was specially developed for window encapsulation, but it is also suited for many other applications, such as solar panels.
Using the Clear Coat Molding (CCM) process developed by KraussMaffei, scratch resistant coating can be combined with fine wood trim components in a single step. The automated process coats the wood very thinly with a clear two-component PU system. KraussMaffei's patented cavity pressure regulation compensates for the volume fluctuations caused by the natural structure of the material.
For PU China, the company is showing an exemplary assortment of components made from fiber composite materials that are not only solid and lightweight, but can be manufactured with the surface quality needed for product components with high visibility.
Some examples are the LFI process, which is particularly suited for large-format, contoured parts for trucks and agricultural machinery, and the HP-RTM process, which enables manufacturing of carbon or glass fiber reinforced lightweight parts in a fully automated process that is suitable for series production.
Website:     www.adsalecprj.com