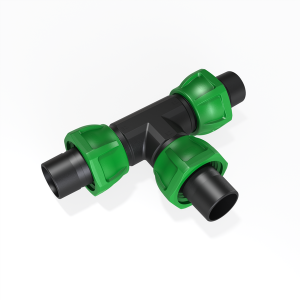 This year's Mystery Creek Fieldays was the platform for New Zealand pipe and irrigation specialists RX Plastics to launch their biggest range of pipe fittings yet for the farm irrigation market.
The result of a year's worth of research and development time, prototyping and tooling up, the injection moulded range is glass reinforced nylon, and will firmly cement the company's position as New Zealand's premier fittings manufacturer and distributor.
According to industrial designer and project engineer, Chris Clay, this is the first time in the company's history that such a major product development process has been undertaken.
"This range includes more than 100 new fittings, which means precision design, tool design, tool making the moulds from solid steel, testing and finally manufacturing the range. We have been selling LD fittings into the marketplace for 30 plus years and we know the market well.
"The sheer number of individual components meant we had to contract multiple tool making companies to carry out the work, and steel had to be bought to make the moulds, which combined make up tonnes of steel."
The robust glass reinforced nylon product is frost resistant, making it ideal for the New Zealand rural market.
RX Plastics' Ashburton factory is the location for the new equipment, which will extend their existing manufacturing capacity and make full use of other investments in machinery over the last few years.
Being situated in a rural heartland has been ideal for RX's development process, which has made the most of having the ideal field test environment on its doorstep.
"We are able to test our products in the real world, gain valuable customer feedback and ensure that we are meeting the requirements of New Zealand farmers – simply by working with our local farming community," Clay comments. "We have made a New Zealand product that's perfectly suited to the New Zealand rural environment."
"The approach has been highly successful with our well known K-Line irrigation and effluent ranges, and we are applying the same approach with the LD product range."
He says the decision to manufacture the range in-house was made after several changes in the New Zealand LD fittings market among RX's competitors.
"Our customers are now able to buy the full range of irrigation pipe and fittings from one manufacturer, with our guarantee of quality and performance."
Fieldays was the first chance for customers and distributors to see the new LD range, ask questions and express interest in stocking the product, which is expected to be available in retail stores around the country from September 2012.
Source : http://www.infonews.co.nz/news.cfm?id=91587&utm_source=feedburner&utm_medium=feed&utm_campaign=Feed%3A+infonews%2Fall+%28infonews.co.nz+All+news%29&utm_content=Google+Reader