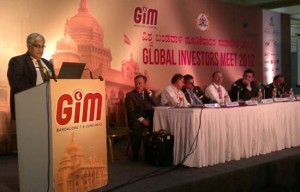 The Bangalore Chamber of Industry and Commerce (BCIC) under the aegis of government of Karnataka, All India Plastics Manufacturers' Association and Mangalore SEZ organized a seminar on chemical, petrochemical and plastic at the Global Investors Meet 2012, here, recently.
Delivering an address on 'SEZ Opportunities for Petrochemicals in Karnataka', Rajiv Banga, MD and CEO, MSEZL said that Mangalore SEZ, the only notified sector specific petrochemical SEZ in Karnataka, would lead to rapid economic development of the region through a cluster based approach for petrochemical sector. This sector could be best developed as a cluster for achieving cost competitiveness at a global scale through functional / co-locational synergies enhanced by proximity to port, proximity to feedstock , benefits of common shared infrastructure, cost optimization by leveraging scale , reduced area requirement and improved environment management. MSEZL is modeled as a cluster providing all the above benefits.
Elaborating, Banga informed that MSEZ is setting up a direct pipeline-cum-road corridor, nearly 10 km long, connecting the MSEZ units to the New Mangalore Port in addition to creation of abundant water infrastructure by setting up two barrages each on the rivers Nethravathi and Gurupur adjoining Mangalore and a pipeline system of over 38 km. The corridor would not only save cost and time for the petrochemical units, but also take pressure off infrastructure. Phase I of the corridor development is expected to be completed by March 2013.
Further he said that proximity to various feedstock options meant a cost advantage of at least 6-7 % which in the long term could provide a huge head start for a potential investor in the MSEZ. A Central Effluent Treatment Plant (CETP) offered cluster benefits to units in MSEZ which could also look forward to adequate power supply to be met by the state grid through KPTCL, towards which a 220 KVA substation is also coming up next to the MSEZ. MSEZL offers 'ready to use' graded plots in various sizes also catering to the needs of the SME sector with normal items of infrastructure to do with water, power distribution, effluent handling , collections and disposal system. While exports would be the focus for all SEZ units, they can cater to both domestic and global markets subject to fulfillment of the Net Foreign Exchange positive criteria over five years.
"Overall, Mangalore SEZ offers benefits that a potential investor looks for in terms of synergy of common shared infrastructure, location advantages and proximity to feedstock '', he concluded.
Source : http://www.daijiworld.com/news/news_disp.asp?n_id=140109