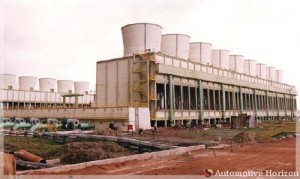 Refiners Indian Oil Corp. (530965.BY) and Mangalore Refinery & Petrochemicals Ltd. (500109.BY) are keen to acquire a majority stake in Haldia Petrochemicals Ltd., amid strong local demand for plastics, synthetic rubber and chemicals, three people familiar with the matter told Dow Jones Newswires.
Haldia Petrochemicals, which owns a naphtha cracker, is a joint venture of the eastern West Bengal state government, The Chatterjee Group, the Tata group and Indian Oil Corp.
"We have expressed our interest," an MRPL executive, who didn't wish to be named, said. "We have requested to be allowed to do the due diligence."
A senior Haldia executive confirmed that IOC and MRPL had expressed their desire to take over the company.
Haldia's cracker is operating only at 55% capacity as it needs funds to buy more feedstock, he said.
Banks have declined to extend loans to the company and want the majority shareholders to pump in more money or rope in a strategic partner.
Haldia has a debt of 40 billion rupees.
A senior IOC executive also confirmed that the company was keen on acquiring a majority stake in Haldia.
The Haldia executive said the company's board may consider the proposals during a meeting likely to be held next week.
Indian companies plan to invest about 37 billion U.S. dollars to expand petrochemical capacity as demand for plastics, synthetic rubbers and fibers is projected to grow at an average rate of 9.5% in the five years ending March 2017 from 8.7% over the comparable period that ended March 2012, the Department of Chemicals and Petrochemicals said in January.
Top refiner IOC has identified petrochemicals as a prime driver of future growth and aims to invest INR300 billion ($5.4 billion) in the business in the next few years, while South India-based MRPL, a unit of Oil & Natural Gas Corp. (500312.BY), is already building a petrochemical project with its parent.
MRPL owns a 300,000-barrel-a-day refinery and plans to raise its capacity to 420,000 barrels a day. A majority stake in Haldia will ensure long-term offtake of naphtha output from the refinery.
The West Bengal government and non-resident businessman Purnendu Chatterjee are currently locked in a battle for Haldia Petrochemicals.
The state government and the TCG group both couldn't be reached for comment.
A refiner with a controlling stake in Haldia will offer the cracker uninterrupted and reliable raw material supply.
The Haldia cracker has witnessed 11 shutdowns in last one and half years, with raw material shortage being one of many reasons.
The IOC executive said his company is better equipped to run the Haldia cracker as it already has a cracker at its Panipat refinery.
Source : http://www.4-traders.com/MANGALORE-REFINERY-PETR-9743089/news/India-s-IOC-MRPL-Seek-Majority-Stake-in-Haldia-Petrochem-Executives-14365914/