In India, PVC prices have been following a firming trend for the last two months on the back of strong demand while players' current expectations are mostly centered around further increases for the near term as the Indian market is about to enter its traditional high season for PVC. According to data from ChemOrbis Price Index, import PVC prices in India have climbed around $95-100/ton since the last week of December 2014 while local prices have also witnessed an increase of $150/ton during the same period.
Last week, a Taiwanese major announced their new PVC prices for March to India with an increase of $40/ton. The producer had lifted their February prices by $55/ton. Soon after the producer's announcement, a pipe manufacturer in India claimed that the supplier had sold out their March quota at their initial offer level. The same producer, meanwhile, revealed their new prices to China and Southeast Asia with an increase of $30/ton from February.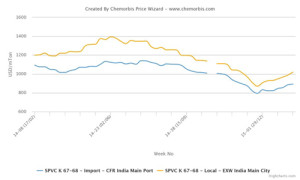 Following these initial March announcements, other Asian producers have also started to voice higher sell ideas for the coming month as per ChemOrbis. A source from a Japanese producer reported that they are planning to announce their new prices to China and Southeast Asia at levels similar to those announced by the Taiwanese producer. The source stated, "We managed to conclude a good number of deals in India, where demand is quite firm in line with limited local supplies. For the near term, we expect the current firming trend to remain in place."
A trader based in Shanghai, China commented, "Most sellers are likely to announce their new March prices in line with a major Taiwanese producer's PVC offer levels. Trading activities in India are better when compared to other Asian markets. We expect demand in China's local market to pick up after the holidays as the weather will get warmer while manufacturing activities will increase."
Meanwhile, two traders in India reported today that a domestic producer has implemented an increase of INR2000/ton ($32/ton) on their local PVC prices. A trader stated that they are expecting to see firmer prices in the near term due to some scheduled shutdowns in Japan while the second trader stated, "The producer raised their domestic offers as local supplies are quite tight, which has lead to the reappearance of acetylene based PVC cargoes in the Indian market. We expect a major Taiwanese producer to issue further increases of $20-40/ton on their next announcement as demand in India is picking up at a fast pace."
According to ChemOrbis, nowadays, players in Asian PVC markets largely concur with the view that increasing PVC prices in India are likely to support other markets in the region, including China and Southeast Asia, in the near future. Sellers are hoping to see higher levels in March with the start of the high season in India while the recent upturn in crude oil and feedstock costs have also strengthened their bullish expectations.