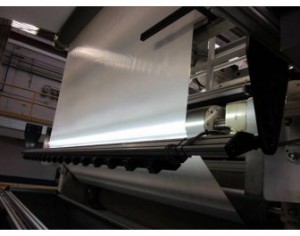 At ICE Europe 2013, ISRA VISION will present its latest solutions in surface inspection for the converting industry. The systems are designed to find every defect and, together with intelligent tools, make an important contribution to increase processing efficiency, says the company.
The areas of use for these all-in-one camera-based inspection systems and their associated tools for production optimization are varied. These include any even finished surfaces with all substrates and material types: films, nonwovens, paper up to carbon fiber or glass fiber fabrics. ISRA VISION says they are in use at all converting stages like: coating, lamination, metallizing and more. Runs can be transparent, covered, semi-opaque, metallized, embossed or dyed. Also composite materials, striped applied coatings or coatings with patterns, optical films and plates are possible to inspect.
The inspection solutions are appropriate for many different installation sites, such as coating lines, re-winders and doctor machines. The range of inspected materials and applications covers a wide variety of markets such as the food, packaging and pharmaceutical industries. The fully-automated system needs low-maintenance and is constructed in a modular fashion based on modern technology both in hardware and software designs. As said, installation is easy. It can cope with frequent material changes. The use of modern camera and lighting technology ensures that the smallest and lowest-contrast material defects will be found.
Besides monochrome line scan cameras, color cameras are used that can reliably identify previously invisible or very low contrast defects. The optimum detection of smallest defects is assured using the latest special and patented lighting techniques such as fast switchable multi-mode, multi-view LEDs, adds the company. ICE Europe 2013 will be held in Munich, Germany from March 19-21.