A new market assessment report from PMMI, the Association for Packaging and Processing Technologies, predicted a 5.5% annual growth for the global personal care packaging market through 2019.
The report, "Personal Care Market Assessment", also examines global trends, drivers and opportunities from the choice of materials to operations.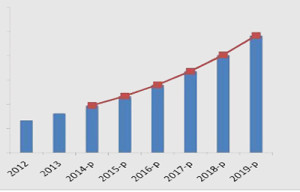 Bottles account for 30% of the market and are expected to grow an additional 28% through 2019, making them the most commonly used container format in this market, according to PMMI.
Cartons are catching up, however, showing the greatest growth from 2010-2014, from 9% to 19% of the market.
As for materials, plastic is the most popular for personal care packaging, accounting for 61% of materials used. PMMI's study projects plastic will remain dominant, growing 12% by 2019.
Brand owners are seeking out ways to reduce waste by using less packaging overall as consumers' demand for convenience has led to a surge in smaller, more portable packages.
Well-developed markets, including North America and Europe, are expected to see slower growth rates in cosmetics than developing markets such as Asia Pacific and Latin America.
Additional factors driving the personal care market include an expanding focus on sustainability, evolving consumer demands, innovations in machinery and materials, flexible equipment and globalization, the report noted. The shifts in consumer audiences and their demands make the need for flexibility even more important to personal care product packaging.
PMMI is the organizer of Pack Expo Las Vegas and the co-located Pharma Expo 2015, which will be held from September 28-30 in Las Vegas, the US.
Website:   www.adsalecprj.com