This week, polymer players in Indonesia have been complaining about the fall in the local currency, the rupiah, which has disrupted trade. Sellers commented that buyers are more concerned with getting a favorable exchange rate this week than the price of the polymer and converters are concerned about raising their end product prices to keep up with raw material costs, according to ChemOrbis sources.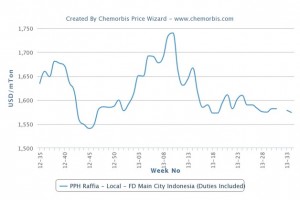 On Monday morning, Indonesia's rupiah fell 0.9% to 10,465 per dollar. The currency saw its lowest level compared to the dollar since 2009 after falling to 10,500 per dollar during the day. Local media reports blamed the fall on the record current-account deficit facing the country, while it also caused the stock market to drop by the most in 22 months and caused a plunge in government bonds. The record shortfall in the current-account is at $9.8 billion. Inflation also surged to a four-year high and economic growth has slowed to the least since 2010.
An Indonesian converter making PP film packaging complained, "The rupiah has depreciated significantly this week. The market will be very quiet once the rupiah exchange rate reaches 11,000 per dollar. We will need to raise our finished product prices as a result of this depreciation."
According to ChemOrbis' Local PP Price Index for Indonesia, prices have mostly been on a downward trend since their peak at the end of February.
A distributor offering locally held PE and PP cargoes commented, "After the rupiah depreciated earlier this week, buyers were in a panic asking about the exchange rates instead of asking for lower prices. We are facing difficulties to sell now and we are more worried about payment issues at this time. Although we may be able to conclude some deals, we are worried about the collections later on. We believe the currency issue could continue for the near term."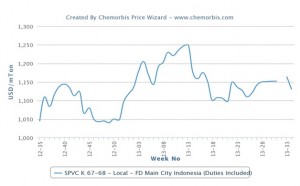 Another distributor offering PE made similar comments saying, "We left our offers at stable levels for this week. We are offering only a portion of our inventory because we are worried about our buyers not being able to afford to make payments due to the weakening local currency. We feel this will impact the local economy and the market sentiment will remain discouraging."
A PVC distributor said, "We reduced our local offers by $10/ton compared to the done deal level last month. Demand is improving because buyers have low inventories and need to replenish some material. However, sales are difficult because of the weak exchange rate and we are worried about delayed payments and collection issues from our customers. We cannot be sure of the near term outlook because of this exchange rate problem."
A source at a regional PVC producer said, "Although Taiwanese PVC offers have been raised for September, local prices in Indonesia are $10/ton lower because of the weaker rupiah. Plus, some of the government tenders for construction are being delayed due to tight money supply and lower foreign cash reserves. This is affecting demand from the cable, pipe and profile sectors."
Players in Indonesia have commented that stocks in the country are relatively healthy since the country has just returned from the Ramadan holiday. A distributor said, "We have sufficient stock on hand due to the long Ramadan holiday this month. Local prices should be revised higher because of higher feedstock costs, but it is difficult for buyers to pass on the increases in the raw material costs after the depreciation of the local currency."
A buyer who received a higher LDPE import offer from South Korea this week said, "We have no interest to purchase now due to the depreciation of the rupiah, plus we have sufficient stocks for 1-2 months because of the short working days in August due to the Ramadan holiday." Another buyer commented that they have sufficient raw materials to last through October, particularly since their end-buyers are on the sidelines now, according to ChemOrbis.