Delcam is pleased to announce that it has added the 45,000th customer for its range of CADCAM software – PT Astra Honda Motor in Indonesia. The customer recently ordered seats of the PowerMILL CAM system and PowerSHAPE design software from the Delcam Indonesia subsidiary, plus the Delcam Electrode and FeatureCAM Wire EDM programs.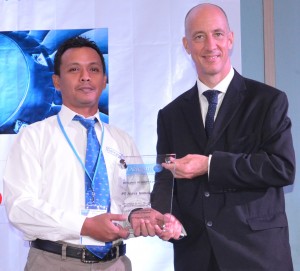 A plaque marking this landmark sale was presented by H.E. Mr. Mark Kent, British Ambassador to Thailand, to Bambang Nugroho, General Manager of Delcam Indonesia, during the Delcam Asian Technical Summit held in Bangkok on 21st and 22nd August.
PT Astra Honda Motor is the leading pioneer of the motorcycle industry in Indonesia. It was founded on June 11, 1971, with the initial name of PT Federal Motor and majority owned by PT Astra International. At that time, PT Federal Motor only assembled motorcycles, using components imported from Japan.
The type of Honda motorcycle that was first in production was the S 90 Z, which had a four-stroke engine with a capacity of 90cc. Total production in the first year was only 1,500 units, but it has now jumped to around 30 thousand each year and continues to grow today. Motorcycle usage continues to increase as they have become a mainstay of transport in Indonesia.
Government policy on the localisation of the manufacture of automotive components encouraged Federal Motor to begin the production of various motorcycle components in Indonesia. This was undertaken through a number of subsidiaries, including PT Honda Federal founded in 1974 to manufacture components such as Honda motorcycle frames, wheels and exhausts; PT Showa Manufacturing Indonesia founded in 1979 to specialise in producing shock absorbers; PT Astra Honda Engine Manufacturing founded in 1984 to manufacture motorcycle engines; and PT Federal Izumi Mfg. founded in1990 to produce pistons.
In 2000, PT Federal Motor and several subsidiaries were merged into one company with the name PT Astra Honda Motor, which is 50% owned by PT Astra International and 50% owned by Honda Motor Co. from Japan.
Currently, PT Astra Honda Motor has three main plants in Indonesia employing about 18,000 people, with a combined production capacity of 4.2 million motorcycles per year. The total volume of motorcycles produced by the company reached 35 million in 2012.
Bambang Nugroho, General Manager of Delcam Indonesia, commented, "We are extremely pleased to have made the sale that takes Delcam to 45,000 customers. We look forward to working with the staff at Astra Honda Motor to help them produce motorcycles that are fun to ride, safe and economical, and so meet the expectations and needs of the people of Indonesia."