Austria-based Next Generation Recyclingmaschinen NGR introduced several recycling solutions at Plast 2015.
The P:REACT system of NGR follows the design principles of Liquid State Polycondensation (LSP) and considerably improves the IV-values of polyethylene terephthalate (PET) and effectively cleans the material for 100% food contact.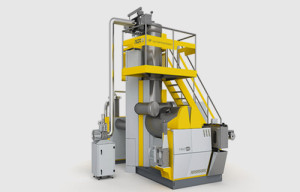 Another exhibit, S:GRAN 65-50 V HD was demonstrated live at the show. The Shredder-Feeder-Extruder combination from NGR features automatic shredding force to reach optimal rPellet quality at high efficiency. The intelligent machine can now calls for maintenance when required.
The BritAs Automatic Band Melt Filter also on show is designed to handle high volumes of heavily contaminated melt streams – predominantly polyethylene (PE). Low operational costs and melt spills lower than 0.2% make this system highly efficient under rough 24/7 production conditions.
NGR introduced at Plast a new inline melt characterization device "T:FILTER". It automatically analyses the level of contamination in a plastic melt.
Website:   www.adsalecprj.com