IN just three years, Namibia Plastics has grown to become one of the leading companies in the plastic industry.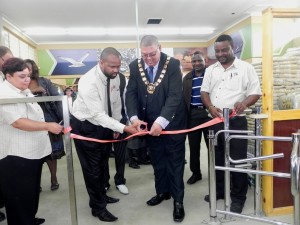 The company's clients include Namibia Breweries, Ohorongo Cement, Namib Mills, Bokomo, Nampharm, Lida Cleaning Services, Jumbo Charcoal, Cymot, Pupkewitz, Bidvest, City Sand and Bricks and Etosha Fisheries.
The company is the Sewrite International agency in the country. Namibia Plastics recently opened a branch in Walvis Bay.
"At Namibia Plastics we believe that less is more. That is why we are proud to take the next step by opening our new branch in Walvis Bay, and being able to work and grow right here in the heart of Namibia's coastal industrial sector and to offer clients better quality for less than what they are used to," said Johan Struwig, founding director of Namibia Plastics, at the opening of the new branch.