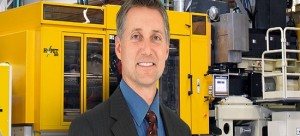 BOLTON, Ontario – Husky Injection Molding Systems today announced changes within its global leadership team to provide more focused, dedicated levels of service and support to customers in the core markets of hot runners and beverage packaging. Gerardo Chiaia will take on the new role of President, Hot Runners. Keith Carlton has been named Vice President, Global Sales, Beverage Packaging. Mr. Chiaia and Mr. Carlton will continue serving as members of Husky's executive team.
"Our ongoing goal is to provide industry-leading technology and lifecycle services aimed at maximizing customers' operational efficiency while bringing new capabilities to market that will help their businesses grow," said John Galt, Husky's President and CEO. "Husky is continually evolving to better meet the needs of our customers. I am excited that these leaders are taking on new roles that will leverage their strengths to allow us to more effectively provide an enhanced level of service to customers."
To better serve customers, Husky is taking the step of establishing hot runners as its own stand-alone business under the leadership of Mr. Chiaia, who has been with Husky for close to 20 years. Since joining Husky in 1994, Mr. Chiaia has held positions of increasing responsibility across Husky's service, sales and manufacturing operations. He has successfully led the company's Beverage Packaging business as Vice President, Global Sales since December 2011 and brings a passion for delivering on commitments, deep customer focus and extensive experience that make him an ideal fit for driving growth and customer value in this area. Mr. Chiaia holds a Master's in Engineering and Automation from Metz University in France and an MBA from Sacred Heart University in Luxembourg.
To enhance responsiveness, flexibility and customer focus, Husky is more closely aligning operations and sales activities for the beverage packaging market under the leadership of Mr. Carlton. Since joining Husky in 1999, Mr. Carlton has held a number of progressively senior engineering and management positions within Husky, having successfully acted as Husky's Chief Operating Officer since 2008. He has been with Husky for close to 15 years and his strong track record of enhancing operational capabilities and wealth of manufacturing experience will drive an even tighter bond between sales and operations to deliver better customer value. Mr. Carlton holds a B.Sc., Mechanical Engineering from Clarkson University in New York, a BA, Physics, from State University of New York, Potsdam and an MBA from the College of Saint Rose in Albany, New York.
To better identify and support customer needs, Husky is also creating a dedicated team responsible for developing, refining and launching products. Robert Domodossola, who has been with Husky for 15 years, is leading this team in the role of Vice President, Engineering and Business Development. Mr. Domodossola has been Director, Development Engineering since December 2008. Since joining Husky in 1998, he has moved through a number of progressively senior design and engineering management roles. Mr. Domodossola holds a Bachelor of Science, Mechanical Engineering degree from the University of Toronto. In this new role, Mr. Domodossola will join Husky's executive team.More information :www.husky.ca