German packaging solutions provider Multivac will present a GMP-compliant packaging machine for life science and healthcare products at interpack 2014.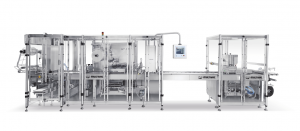 The solution is based on a thermoforming packaging machine, which Multivac designed to separate the areas for product processing and machine technology from each other. All units installed as part of the machine technology, including hoses, cables and valves, have been moved from the interior of the machine to the rear. The company said it reduces the risk of products getting lodged somewhere during the packaging procedure and ensures that the line can be cleaned quickly.
The machine is clad with a transparent polycarbonate front so that the operator can monitor the production process and quickly detect and remove products which have got lost. The easy opening of the doors means accessibility and cleaning are more convenient than before.
Multivac has also expanded the potential use of its drawer system, which up to now has only been used for the user-friendly changing of tooling in the forming and sealing dies. The new machine now offers corresponding change systems for plug-assist dies. Moreover, the changing of the cutting tool in the complete cutter has been simplified.
According to the company, the new thermoforming packaging machine offers a high degree of flexibility with regard to the arrangement of the different modules. Both flexible and rigid films can be run on this machine.
In addition to producing vacuum packs, the new thermoforming packaging machine is also designed to produce packs with modified atmosphere and reduced oxygen content. The company's line-motion control via the HMI 2.0 operator interface, as well as sensitive sensor technology, help to ensure high product quality.
Multivac noted that it is suited to packing a wide range of products, such as for example syringes, ampoules, vials and injectors. interpack 2014 will be held in Düsseldorf, Germany from May 8-14.