The British Plastics Federation (BPF) has today launched the "Plastics Timeline", a set of 10 posters charting the history of the plastics industry from its early beginnings in the 1800's through to its development over the 20th Century when it became one of the planet's most used and important materials. The Timeline also features a glimpse into the future of the plastics industry with developments, such as plastics blood, 3D printed body parts and driverless vehicles featured.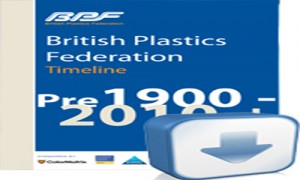 The Timeline, which was created in consultation with the Plastics Historical Society and the Worshipful Company of Horners is being distributed free of charge to over 500 plastics companies. In addition, the Timeline is being set to all universities with a key interest in polymers. In partnership with the Wastebusters UK Network, the poster set will be distributed to all primary schools attending the upcoming National Primary Earth Summit. This aims to help pupils investigate plastics as materials and will provide a forum for children to air their views on plastic waste on a ntational and international level.
In cooperation with the Horners' Company, the Timeline will be distributed to all teachers attending the Polymer Study Tours (an initiative organised jointly by the Horners and the BPF toe ducate teachers about the benefits of plastics and arm them with materials that they can use in the classroom.
Additional sets are available to buy online from the BPF Shop at www.bpfshop.com and are usually sold for £50 per set but by using the voucher code 'timeline' all BPF members can get the posters for free (you will only be charged £10 for post and package). The poster set is also available to download as a high resolution printable file at www.plastipedia.co.uk
BPF President Mike Boswell said: "The Timeline has attracted great attention. It demonstrates the superb heritage we have in plastics innova
Timeline is available for free at: http://www.bpfshop.com/Products/47/plastics-timeline-posters-set-of-10-