Henkel, the leading adhesives manufacturer, has cooperated with Ford Motor Company to develop an anaerobic gasketing sealant, Loctite 5189, for highly stressed engine joints. With exceptional flexibility, the new sealant is said to meet the requirements of the on line blow-out test and thus eliminating the cost of extensive manual rework and offering robust sealing for high volume engine manufacturing.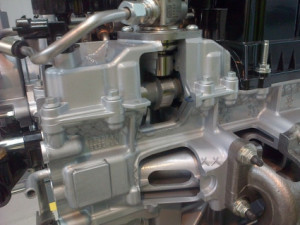 According to Henkel, this "formed-in-place" (FIP) flange sealant has been tested and approved for use in a number of different Ford engines as a means of offering a robust and cost effective sealing solution.
Loctite 5189 is used, for example, to seal the cam caps on the 1.0 liter EcoBoost engine and for highly stressed joints on the 1.6 liter EcoBoost engines at Ford. The 125 PS (123 BHP/92kW) 1.0 liter engine installed in the Focus and Fiesta as well as other Ford models was recently named overall winner in the 2013 International Engine of the Year Awards.
"In order to ensure leak free engines and the reduction of re-work, we asked Henkel to develop a gasketing compound with high flexibility and blow out resistance so engines pass the quality test first time," says Ford's Mr Tsunou Chang, Senior Sealing Engineer at Ford Motor Company.
Loctite 5189 from Henkel does enable substantial reductions in both reject rates and process costs in engine production. Aside from its short curing time, the gasketing sealant is also characterized by its good adhesion to metallic surfaces, particularly aluminum. Rather than becoming glass-hard once cured, Loctite 5189 offers long term flexibility compared to previous gasketing sealants enabling it accommodate flange movement on highly stressed joints.
Ford began using Loctite 5189 in production of its 1.0 liter and 1.6 liter EcoBoost engines in January 2014 and the product will be used globally by the end of 2014.