Thus Far Nine Companies Plan to Create Convenient and Comfortable Meeting Areas, including an Extensive South Hall Facility for Dow
WASHINGTON, DC, U.S.A., July 28, 2014: Among the many raw material suppliers that will participate in the NPE2015: The International Plastics Showcase, several plan to offer "Customer Service Centers" where they can engage with processors, designers, OEM/Brand, and other business professionals in comfortable facilities convenient to the exhibit floor, it was announced today by SPI: The Plastics Industry Trade Association, which produces the triennial NPE.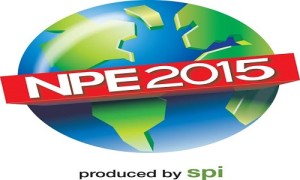 Thus far nine companies have committed to purchase space for Customer Service Centers, and several more firms are in discussions with SPI. The eight include The Dow Chemical Company (Dow), DSM Engineering Plastics, DuPont, Eastman Chemical Company, ExxonMobil Chemical Company, Formosa Plastics, LyondellBasell, PPG Industries, and Westlake Chemical Company. The Dow experience will be particularly extensive, accounting for a space rivaling the largest booth on the exhibit floor.
"Dow introduced the customer center concept in 2002 and we have worked to raise the bar every year," said Greg Jozwiak, North America Commercial Vice President for Dow Packaging and Specialty Plastics. "Providing our customers and industry partners with a comfortable, exclusive venue for meetings, meals and other business services will continue to be a priority in 2015. Dow will also use the venue to showcase the latest polyolefin, elastomer and adhesive technologies. And, with the growth projects in the plastics sector set to come online in the coming year, we expect NPE 2015 to be a market catalyst to even greater growth and innovation."
The Customer Service Centers, accounting for over 62,000 sq.ft. (5,760 sq.m), will enable NPE2015 visitors to meet with current or prospective material suppliers in settings conducive to discussion, information exchange, and relationship building. Visitors will have the opportunity to engage with supplier executives, salespeople, or technical experts appropriate to their interests. Many of material suppliers will also be conducting private tours of the exhibit floor to showcase machines using their materials.
"The emerging importance of Customer Service Centers reflects a renewed commitment to NPE2015 by raw material suppliers, and highlights the importance of the materials aspect within plastics production life cycle," said Brad Williams, SPI's director of trade show marketing and sales. "Visitors to NPE2015 will discover the full range of technologies necessary to stay competitive, including hundreds of new machines in full-scale operation and a wealth of resin, compound, and additive innovations."
The increased involvement of raw material suppliers is in line with NPE's efforts to provide more material education as well as showcase material impacts in design , production, recycling , and reuse. NPE2015 is on track to be the largest NPE in years and poised to equal NPE's largest event ever, NPE2000. Over 950,000 square feet (88,250 sq.m) of space has already been secured, and the show is at 94% of capacity. In addition, more than 350 exhibitors report that they will be running equipment on the show floor.
NPE2015 Registration and Housing is now open at www.npe.org. For more information on securing a customer service center meeting room, contact NPE Sales at [email protected] or 703.259.6132.
NPE is a triennial international plastics exposition solely owned and produced by SPI: The Plastics Industry Trade Association. NPE2015 will take place Monday through Friday, March 23-27, 2015, at the Orange County Convention Center in Orlando, Florida. NPE2012 had 1,933 exhibitors, 40% of which came from outside the U.S.A. The event attracted 55,359 participants, 26% of them international visitors.
Founded in 1937, SPI: The Plastics Industry Trade Association promotes growth in the $380 billion U.S. plastics industry. Representing nearly 900 thousand American workers in the third largest U.S. manufacturing industry, SPI delivers legislative advocacy, market research, industry promotion, and the fostering of business relationships and zero waste strategies. From resin suppliers and equipment makers to processors and brand owners, SPI is proud to represent all facets of the U.S. plastics industry. SPI also owns and produces the international NPE trade show. All profits from NPE are reinvested into SPI's industry services.
More Information:- www.martinocommunications.com