At Interpack 2014, ILLIG will premiere its FSL 48 form, fill and seal (FFS) thermoforming line tailored to meet the demands of the food industry, and especially the dairy sector.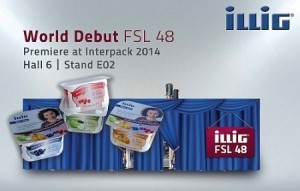 The FSL 48 can be equipped to meet a variety of different hygiene requirements by the food industry through to hygiene class IV according to VDMA (hygienic filling machines). The thermoformer's format area, 480x320mm, can accommodate 12 standard dairy packs simultaneously with a working speed of up to 30 cycles per minute.
ILLIG said all conventional materials suitable for processing on FFS lines can be processed on the new FSL 48, such as polystyrene (PS), polypropylene (PP), multi-layer materials (e.g. PS/EVOH/PE), amorphous polyethylene terephthalate (APET) and even foils made of polylactic acid (PLA) biopolymer. This also applies to the heat-sealable lid materials.
The In-mold Labeling (IML) unit integrated in the forming station works with printed blanks from the magazine, offering numerous decoration options: one-sided, two-sided, three-sided (e.g. U-shape), four-sided or even five-sided (including bottom decoration such as integrated barcode). A variety of cup shapes can be smoothly decorated since in IML walls to be decorated don't have to be vertical, explained the company.
In addition, the ILLIG multi-lane filler allows several flavors to be filled at the same time in one machine format using the same or different labels, thus saving manpower for manual re-sorting.Interpack 2014 will be held from May 8-14 in Düsseldorf, Germany.