Nordson Xaloy's X220™ Iron-Chromium Alloy Outperforms Standard General-Purpose Inlays
NECKARSULM, GERMANY, July 28, 2014: A bimetallic barrel alloy with enhanced resistance to corrosive and abrasive wear extends the working life of extrusion and injection molding barrels in general-purpose applications and provides greater assurance of product quality and consistency, it was announced today by Nordson Xaloy Europe, which will feature the technology  at Fakuma 2014 (Hall A6, Stand 6404).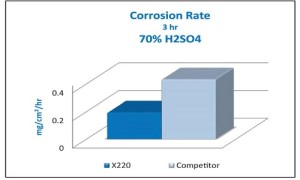 The key to the corrosion resistance of the X220™ alloy is its higher chromium content relative to other barrel inlays for general-purpose use—double the chromium content of Nordson Xaloy's own X200™ inlay and greater than the standard alloy in Europe. The new inlay also exhibits greater hardness: 64 to 69 on the Rockwell HRC scale, as against 58 to 65 for the X200.
In acid immersion tests of sample weight loss, X220 alloy exhibited a 55% improvement over other European alloys in sulfuric acid and a 44% improvement in hydrochloric acid (see graphs).
"The new X220 inlay improves productivity and product quality through better screw-to-barrel fit, reduces downtime, and prolongs the working life of the barrel," said David Hotchkiss, global product manager.
A bimetallic inlay is a high-hardness alloy that lines the inner wall of the barrel. As general-purpose inlays, the iron-based X200 and the iron-chromium-based X220 can be used with a wide range of polyolefin, styrenic, and other resins at filler loadings up to 15%. For vinyls, certain fluoropolymers, and other potentially corrosive resins, Nordson Xaloy supplies the X306® nickel-cobalt alloy. The tungsten carbide / nickel-based alloy X800® provides exceptional wear and corrosion resistance for highly filled resins and high-temperature engineering polymers .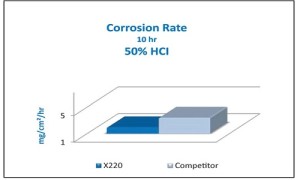 Nordson Corporation engineers, manufactures and markets differentiated products and systems used for the precision dispensing of adhesives, coatings, sealants, biomaterials, polymers, plastics and other materials, fluid management, test and inspection, UV curing and plasma surface treatment, all supported by application expertise and direct global sales and service. Nordson serves a wide variety of consumer non-durable, durable and technology end markets including packaging, nonwovens, electronics, medical, appliances, energy, transportation, construction, and general product assembly and finishing. Founded in 1954 and headquartered in Westlake, Ohio, the company has operations and support offices in more than 30 countries.
Nordson Polymer Processing Systems provides customers with engineered components to melt, homogenize, dispense, and give shape to plastic and fluid coating materials. Nordson Corporation leverages the collective plastics industry  experience from a series of strategic acquisitions to offer a uniquely broad portfolio of industry-leading technologies. Nordson delivers a full range of precision melt stream products — from screws and barrels for extrusion and injection molding — to filtration systems, pumps, and valves — to the extrusion dies and pelletizing systems to meet the constantly evolving needs of the polymer industry.
Nordson Corporation provides customers with local technical sales, service and remanufacturing capabilities through sales organizations and regional manufacturing facilities in over 30 countries.
More Information :-  www.martinocommunications.com