In a latest move in the plastic manufacturing sector one of the major players Kureha Corp.'s has initiated its first polyvinylidene fluoride plant outside of Japan. The inauguration ceremony was held by wholly owned subsidiary, Kureha (Changshu) Fluoropolymers Co. Ltd., on July 4.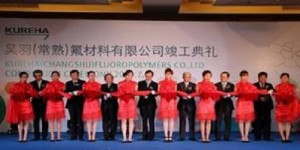 According to news from the sources the operation was initiated viewing the growing demand of PVDF as binder materials for lithium-ion batteries also as an engineering plastic for various industrial uses, Kureha said in a news release. While addressing media professionals and industry experts the representative of the company says our move will help each one of us delivering clients in a much more efficient manner. Since the demands for these plastic related materials have risen exponentially there was an urgent need of such a facility that could meet the growing demand and we are hopeful that our move will help us addressing our endeavor.
According to reports Kureha supplies 70 percent of the PVDF binder for lithium-ion batteries in the global market and with 7.5 billion Japanese yen ($73.7 million) of capital investment, construction of the 5,000-ton-per-annum plant began in June 2012 and was completed in April 2014. It has since been conducting test operation.
While addressing media professionals and industry expert President and CEO Yutaka Kobayashi says that Kureha has received highly positive feedback from customers in the Chinese lithium-ion battery industry, in particular batteries for electric vehicles. He expects to see stronger demand as the Chinese government pushes forward policies that encourage the development of alternative fuel vehicles, according to the local government. Combined with other operational facilities Kureha has boosted its global PVDF annual production capacity to 9,000 tons. The company said it allows the delivery of a stable supply of the material to growing demand worldwide.