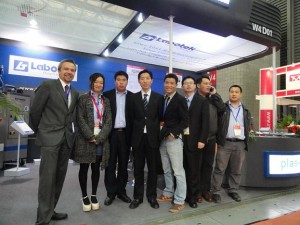 Labotek a leading supplier of plastic ancillary equipment have reported excellent results following ChinaPlas 2012 in Shanghai.
Labotek's sales staff reported strong enquiry levels whilst exhibiting with their China based distributor Plas-e at this years event where they displayed their portfolio of high class products.
The popular DDM mobile dryer was running live at Labotek stand and was connected to a production cell, plus vacuum hopper loaders and central materials handling solutions were also exhibited.
Sales Manager Thomas Ringheim said:
"Both local and international customers made their way to our booth and were introduced to our latest technologies and energy saving solutions.
Especially the Gravi-Dryer which has been well received and we look forward to continuing these projects in Asia.
Labotek has a long reputation for durable products, being easy to use and bringing exceptional value for money to the user, was truly confirmed by the visitors. Feedback to our exhibits and product quality has been great and we will definitely be back in Guangzhou in 2013."
Labotek has a network of companies and agents across Asia in China, India, Japan, Korea, Taiwan and Thailand.
About Labotek
Labotek supply equipment designed for drying, 
transport, dosage and storage of free flowing plastic 
granules and the transport of free flowing powdered 
materials.
Labotek is considered as leading supplier for developing 
energy efficient solutions for our equipment, obtained through use of frequency controlled motors, moisture 
dependant regeneration systems and 
Labotek Energy Saving System.