KraussMaffei Berstorff announced that it is offering an on-site milling service that helps to eliminate pressure losses caused by wear or damage.
The service package comprises face-milling of Multiplex extrusion dies that are subject to wear during production. The milling operation is conducted during scheduled maintenance to ensure the fitting of profile extrusion tools so that performance can return to normal.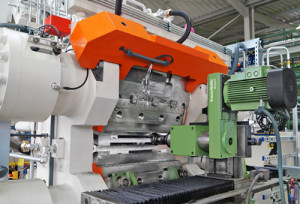 "Our mobile milling service is designed for tire producers faced with leaks in the die area are after having operated their extrusion heads for years on a 24/7 basis. The damaged areas result from increased wear produced by compounds with high silica shares or by cleaning operations due to frequent formulation and profile changes," explained Maik-Marcel Poppe, Head of KraussMaffei Berstorff's Technical Spare Parts Service. "This leads to pressure losses in the extrusion head and to undesired material leakage."
The milling system was specifically designed for on-site machining of Multiplex extrusion heads with working widths ranging between 360mm and 1,050mm. It features brackets developed in-house that can be firmly connected with the extrusion heads and perfectly aligned.
Various face-milling tools with a maximum number of cutting edges and adapted geometries ensure optimum chipping results and superior surface qualities.
After the milling operation, the specified tolerances can be met again, according to KraussMaffei Berstorff. In addition, the sealing face of the die components is improved, which reduces material and pressure losses.
Upon completion of the milling process, the company will issue a detailed measuring report so that the new coordinates can be considered in future extrusion tool or flow channel orders.
Website:                                    www.adsalecprj.com