MÜNSTER, GERMANY, January 27, 2016: Nordson Corporation will supply sixteen of its process-patented BKG® brand CrystallCut® pelletizing systems for a mega-scale PET resin plant scheduled for startup this year by Jiangyin Chengold Packaging Materials Co., Ltd. in Jiangsu Province, China. The big project reflects the intensified focus on pelletizing systems for the Asian marketplace that will be evident in Nordson's exhibit at Chinaplas 2016 (Stand W2-J01).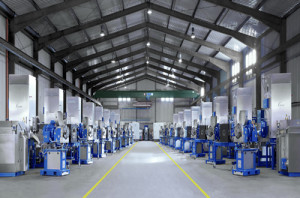 Nordson's CrystallCut process provides substantial energy savings in comparison with standard PET polymerization systems by using the thermal energy of the molten polymer in PET pelletizing for subsequent crystallization. In the Jiangyin Chengold facility, the CrystallCut systems will deliver PET pellets to EcoSphere™ solid state polycondensation (SSP) systems built by Polymetrix AG, Oberbüren, Switzerland, which contracted for the use of the CrystallCut units. Chemtex Group, Wilmington, NC, U.S.A. is the prime contractor for the entire bottle-grade PET resin plant.
The CrystallCut system integrates underwater pelletizing, drying, water filtration and direct crystallizing at temperatures of up to 180 °C and crystallinity up to 40%. In the new PET plant, the system will provide a pellet temperature adjusted to the process for crystallization and delivery to the SSP equipment, which will be supplied by Polymetrix.
Nordson BKG will also supply sixteen condensation systems for the water recovered from the hot air in the process, These are expected to provide substantial additional savings through reduction in water filling.
"In the new mega-scale plant to be operated by Jiangyin Chengold, we anticipate that the energy savings provided by the CrystallCut process in comparison with conventional PET polymerization will be truly dramatic," said Ralf Simon, Nordson BKG managing director. "As part of the streamlined system engineered by Polymetrix, our BKG equipment will help the new plant to achieve unprecedented levels of efficiency."
Website:                                   www.nordson.com