At VDI Plastics in Automotive Engineering 2016 conference, Engel Austria will put its focus on lightweight design, functionalized surfaces and precise optics.
"These three topics are the most important drivers of innovation and growth in the automotive industry," pointed out Michael Fischer, Sales Manager Technologies at Engel.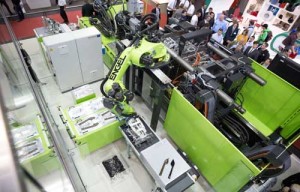 The company will highlight its clearmelt process, of which the first series production application will be ramped up in the near future. The machine was demonstrated at Fakuma 2015, producing decor elements with real wood veneer. It was delivered to Germany-based HIB Trim Part Solutions afterwards.
The Engel clearmelt process involves first injecting a thermoplastic carrier, which is then immediately flooded with polyurethane (PU) on the second side of the indexing platen mold. PU makes the surface scratch proof and gives it visual depth.
The wood veneer is inserted into the mold before processing the thermoplastic, and is sandwiched in the finished part between the carrier component and the layer of PU. Instead of precious woods, decor foils can also be used here.
Back injection of capacitive touch foils is also possible. This means that electronic features can be combined with a premium, closed and robust finish in a single step.
"Further projects are also on the finishing straight," said Fischer. "The automobile industry is currently in the process of exploring the huge potential that this highly efficient multiple component process opens up."
Another highlight of Engel is the variomelt technology for achieving premium finish quality directly on the thermoplastic surface.
Before injecting the melt, the mold cavities are heated and, after complete filling, are cooled again, thus increasing the contact temperature between the melt and the mold wall to slow solidification of the surface layer. This makes it possible to create a high gloss finish without sink marks or flow lines.
In addition, the Austrian machinery supplier will present its optimelt process for production of LED lenses. Multi-layer molding, a process in which a pre-molded part is overmolded with more layers of the same material, helps to achieve a balance between high optical quality and cost effectiveness.
If the pre-molded component is partly cooled outside of the mold, the cycle time can be reduced significantly even in the production of very thick lenses, explained Engel.
VDI Plastics in Automotive Engineering 2016 will be held from March 9-10 in Mannheim, Germany.
Website:                                          www.adsalecprj.com