Goebel IMS, one of the leading providers of slitting and winding solutions for the film and various other industries, will be represented at this year's CHINAPLAS.
With its MONOSLIT series and the XTRASLIT 2, Goebel IMS sets standards in film converting. The company has sold its 100th slitter rewinder of the MONOSLIT series in 2015.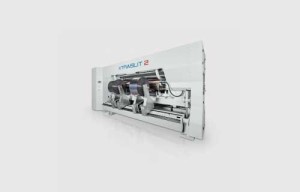 The MONOSLIT series comprises the MONOSLIT with a working width of up to 9,000 mm and the MONOSLIT GIANT with a 12,000 mm working width. Both slitter rewinders are designed for the converting of a broad spectrum of films, ranging from BOPP materials for the MONOSLIT GIANT to BOPP, BOPET, OPP, CPP, BOPA, BOPS and other special films for the MONOSLIT.
Packaging, capacitor, battery separator and optical films with film thicknesses between 0.5 and 500 μm can be converted by the MONOSLIT series at a speed of up to 1,500 m/min, featuring an extremely smooth run at maximum speed while guaranteeing outstanding quality of the end product.
High-end slitter rewinder XTRASLIT 2 sets new benchmarks in the highly-productive processing of films, sensitive papers and flexible packaging materials since 2014. It is designed for a working width of up to 3,600 mm and can convert material thicknesses of between 2 and 400 μm. In the process, the system permits speeds of up to 1,200 m/min, depending on the material.
Both the MONOSLIT series and the XTRASLIT 2 can be equipped with additional technical features to fulfill customer-specific requirements in order to provide maximum performance and to create sustainable value.
CHINAPLAS, the Asia's No. 1 and the world's No. 2 plastics and rubber trade fair, will be held from April 25 -28 in Shanghai, China.
Website:                                www.adsalecprj.com