Tetra Pak announced the successful production of the first fully renewable Gable Top package in the US. The new bio-based cartons developed from a combination of paperboard and sugar cane derived plastics.
First introduced in Europe in January 2015 as Tetra Rex Bio-based, the new Tetra Pak Gable Top Bio-based package was specially adapted for the US market, according to the company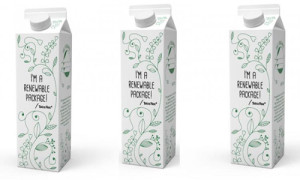 "We're proud to be the first to offer a fully renewable carton package to the US market and believe that increasing the renewable content of our packages is not only good for the environment, but also offers our customers a competitive advantage," said Carmen Becker, president and CEO at Tetra Pak Inc.
As said, Tetra Pak customers using the standard half-gallon gable top with or without closure can easily transition to the new bio-based version without the need for any additional investment or modification to their existing filling machines.
The Tetra Pak Gable Top Bio-based package follows a long line of successful innovations in sustainability at Tetra Pak, including the launch of the fully renewable Tetra Rex Bio-based package in Europe, the global launch of the industry's first bio-based cap and the successful introduction of bio-based coatings for all packages produced in Brazil.
In the last year, the Tetra Pak's fully renewable package has been recognized with seven awards, including first place in the Sustainable Innovation category at the Ethical Corporation Responsible Business Awards. The company now expects to deliver globally more than 100 million of these fully renewable packages to customers in 2016.
Website:                                                         www.adsalecprj.com