Players in Turkey concur that trading apparently slowed down in the last working week of the year now that many companies are dealing with their year-end closures as per ChemOrbis. At the same time, speculations already arose about renewed hike attempts on the part of PP and PE sellers.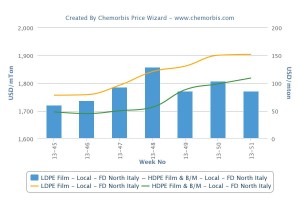 Although sellers refrain from expressing any sell ideas for now, they are set to seek some increases in the new year supported by ongoing supply constraints for particular products amidst delayed deliveries in addition to rising monomer costs.
However, some players believe that no major hikes can be obtainable next month considering the fact that many buyers may not rush to make fresh purchases as they have material on hand or on the way that was delayed. Plus, demand in China started to cool off in the last month before the New Year holidays in that major market which may have an impact on the Turkish market, some players consider.
Sources from several Middle Eastern PP and PE producers stated that they are aiming for some increases of up to $50/ton in January. However, these suppliers elected not to voice any sell ideas with some of them being skeptical if these hike intentions can be fully materialized or not. A source at a Middle Eastern producer reported, "Our headquarter has asked for $50/ton hikes, while we will try to obtain a smaller increase since we think that buyers may not accept this amount."
As for a major Middle Eastern producer's new prices, "We expect one major producer to announce hikes of $20/ton at most," buyers said. One converter has received a $30/ton hike from the producer, which is yet to be confirmed by other sources. A converter said, "We heard about possible increases for January whereas we are not interested in making fresh engagements since we don't want to enter the new year with high stocks."
"We are waiting to receive our cargoes for January that are on the way. Supply remains tight for HDPE pipe, film, blow moulding and PP fibre while the market continues to move up," commented a trader. "There might be small hikes but I foresee a stable to $10-20/ton firmer market. The American dollar rose a lot against the Turkish Lira while PP and PE supply may not be that tight once new offers emerge soon," another trader stated.
Indeed, a global producer already issued increases of $20-30/ton for HDPE film and blow moulding and $40/ton for PP raffia this week given their limited January allocations to Turkey. "We are facing some production issues at our plant located in the Middle East," a producer source reported.
Firm market talks emerged not only for Middle Eastern cargoes but also for duty free South Korean and European origins. A sack maker said, "PP prices may gain another $20-30/ton as sellers are not calling as often as before this week. However, they may start to step back by February or March." Regarding the PE market, he thinks that South Korean PE prices may only increase by $10-20/ton, while no downturn is likely either as he was told by his supplier that South Korean suppliers already finished their January allocations and started to talk for February.
"We heard that LDPE supplies are tight in Europe," a buyer said, while some traders stated that they expect to see some PP and PE increases from their South or Central Eastern European suppliers for next month.
"PP prices may come with small increases as propylene didn't rise that much and the parity is so high. All indicators are for a firming trend in January including the monomers' trend and limited supplies especially for fibre. However, there are two exceptional factors: the possible slowdown in China next month ahead of the Chinese New Year at the end of January which may lead Middle Eastern sources to turn to Turkey and the very high €/USD parity," a trader supplying South European PP highlighted.
According to ChemOrbis, players reported different opinions regarding the possible impact of a slowdown in China prior to the holidays in that market. Some converters from the packaging industry commented that a possible cooling off in China may not affect Turkey much, while one sack maker said, "Prices in Turkey may soften in February if activity in China really slows." "Prices may start to ease by February-March. If China slows down by January 20, this will affect Turkey as well since sellers may limit their quotas to China and supply may loosen in Turkey," another buyer agreed.