According to ChemOrbis Price Wizard, China's export and local PET prices hit their lowest levels since early 2009. Decreasing PET prices have been reinforced by relentless decreases seen in the upstream markets.
Export PET prices retreated by $30-50/ton during this past week and prices on FOB basis broke below the $1000/ton threshold for the first time since April 2009. Within the export range, some producers' price cuts indicated even larger drops of $70-80/ton.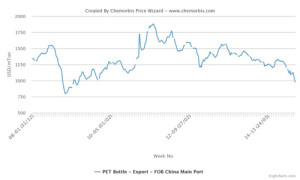 According to ChemOrbis, lower upstream costs are the main reason behind these relentless decreases along with the weak buying interest for PET applications. Crude oil prices on NYMEX broke below the $55/bbl threshold last Thursday while production costs continue to spiral down. When comparing with early December levels, PTA is down by $95/ton, MEG is $35/ton softer and PX is $100/ton lower. Previously, PTA plant shutdowns in Asia had supported PET prices briefly. These days, players have started to report that these PTA plants will restart soon.
A Chinese distributor commented, "Upstream costs are still weakening and PTA turnarounds are to be completed soon. We are not optimistic about the market direction at all since end product demand has not improved even ahead of the Christmas and New Year holidays. Buyers have not been lured back to the market by the price decreases because like increases, large decreases, too, make buyers hesitant to conclude deals. Further decrease expectations linger in the market."
A trader remarked, "We see that prices below $1000/ton are offered in the market but we also see that these levels failed to generate buying interest. Along with decreasing prices, we hear that some PET producers are holding very high stocks, too. Considering these factors, we are not expecting any recovery on PET prices, soon."
Meanwhile, local PET prices lost CNY300-450/ton ($48-72/ton) during this past week and they hit the CNY7000/ton ($976/ton without VAT) threshold. The local PET market reached the lowest levels recorded since March 2009, according to data on ChemOrbis Price Wizard. Players anticipate offer levels will move even below this level.
A PET bottle manufacturer reported that sellers are willing to make further price reductions in return for serious counter bids. "We are running out of our stocks as we work on a hand-to-mouth basis. Therefore, we are going to need to make fresh purchases soon, albeit still in limited amounts, given the weak PET demand. However, continually decreasing price levels cause us to monitor the market very cautiously as we fear seeing even lower prices once we purchase."