Gujarat Govt has been consistently enlarging the canvas for growth and development through constant endeavors. INDIA PLAST 2015 is one of the initiatives by Gujarat Govt and iNDEXTb to put plastic industry at international scale so that the industry players can take leverage of the scope and opportunity in the industry.
INDIA PLAST 2015 is scheduled on on 29th Jan 2015 to 3rd Feb 2015, at most modern and state of art exhibition venue at Mahatma Mandir, Gandhinagar, Gujarat. The exhibition Centre comprises of 15 Halls with all amenities desired for exhibition & B to B interaction along with knowledge dissemination international conference. (The Venue and other details can be viewed by visiting www.indiaplast.net)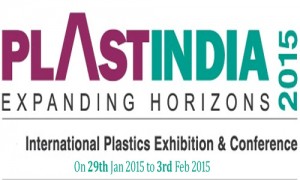 Launching Events
First launching event of INDIA PLAST 2015 was held in Ahmedabad on 11th February 2014 and then in Rajkot. Launch event was inaugurated by chairman of iNDEXTb, Govt. of Gujarat, Shri Saurabhabhi Patel who is Hon'ble Minister of Energy and Petrochemicals, Mines and Minerals, Cottage Industries, Salt Industries, Printing, Stationery, Planning, Tourism, Civil Aviation, Labour and Employment, Gujarat Govt. In welcome speech, he highlighted prospects of the plastic industry and the crucial role of INDIA PLAST as catalyst in development of the industry at National and International platform. The Hon'ble Minister narrated that Government of Gujarat is the only state which has become self-reliant in Power with achievement of33% industrial growth contributing 17% to GDP and in future it will be enhanced to upto 22%.
Shri S.B.Dangayach, Managing Director of Sintex Industries Limited who welcomed the delegates and narrated the forth right vision of Government and need of putting polymer industry on priority for new policy like textile policy of Government of Gujarat. He said that opportunity is not only mega, but shell fulfills the need of new exhibition centre in western part of India. This exhibition will give challenge for inclusive growth in all aspect of polymer usage in area of textiles, building, construction other infrastructure and automotive and packaging industry and elastomers.
Shri D.J.Pandian IAS the chief sec. of iNDEXTb expressed the most desired need of growth of Polymer Industry. The policy of Government of Gujarat for Plastic Parks & fascinator to start the industry in Gujarat was very welcome gesture on his part.
Shri Nikhil Meswani, Executive Director of Reliance Industries Limited confirmed that Gujarat is the Janmabhumi, their inception & growth has been in and Gujarat primarily. The Reliance Industries Limited is planning additional capacity of 3.5 million tons in next 5 years. He emphases need of value added products with desired quality of international standards. He forewarned the SME the challenges to be in international market, technology and innovation.
Shri Mahendra Patel, Chairman & Managing Director of Mamata Group the veteran of the industry thanks the govt officials individually; appreciate their contribution in each area. He did emphasis the recycling issues of plastics, with a philosophically approach that plastics is part of mother earth and it will be accepted no matter what mankind play with it.The congregation witnessed the work through of sight of exhibition.
Marketing & Promotion
Being one of the largest Exhibition and conference of Plastic Industry, major national and international trade associations are joining hands. National Associated partners are AIPMA – The All India Plastic Manufacturers' Association, GSPMA – Gujarat State Plastic Manufacturers' Association, PMMAI – Plastic Machine Manufacturers Association of India, TAPMA – The Tamilnadu Plastic Manufacturers'' Association, KPMA – Kerala Plastic Manufacturers' Association, KSPA – Karnataka State Plastic Association, APPMA – Andhra Pradesh Plastic Manufacturers' Association, SPMA – Saurashtra Plastic Manufacturers' Association, SGPMA – South Gujarat Plastic Manufacturers' Association, NSIC – National Small Industry Corporation , FICCI – Federation of Indian Chambers of Commerce & Industry, Plastic Export Promotion Council, OPP-Organization of Plastic Processors of India, CIPET-Central Institute of Plastic Engineering & Technology, GCCI-Gujarat Chambers of Commerce & Industry, CII-Confederation of Indian Industry, IPI – Indian Plastic Institute, Gujarat Innovation Society and many more. The associate partners and industry players are very optimistic for the grand success of the show and believe that it will certainly give major thrust to the development of the industry.
As per the sources, in excess of 10000 sq mtr space has been already booked. They are getting enquiry from domestic industry players as well as international clients. As a plan of marketing and promotion, INDIA PLAST team and its associate partners has already started meeting with industry players and other delegates. The designated team has been in liaison with international exhibitors and visitors in different countries. Being one of the objectives of INDIA PLAST is to boost export of plastic industry, the marketing team planned to bring all major countries' exhibitors & visitors to the event. And INDIA PLAST will not only provide a platform to bring industry players from many countries but also will play very important role in creating healthy environment in context of support from trade association and govt of respective countries.
Sources said that the promotion of INDIA PLAST 2015 has been effectively started to reach all segment of the plastic industry from Raw Materials to Finished Goods in very effective way like OOH campaign, Digital Marketing (Email Marketing, SMS Marketing, SEO, Social Media Marketing), Road show campaigning, conferences etc. Event will cover all the segment of plastic industry like machinery & processing equipment, Quality Control & Testing Equipment, Fillers & Reinforcement, Compound & Masterbatches, Recycling, Plastic Packaging, Ancillary Equipment Instrumentation, Rubber Products & Machinery, Plastic Composite, Surface enhancement & decoration machinery and many more.
The organizations are willing to discuss opportunities for startup industry, SME & international companies, raw material mfr for showcasing their activities for the 1st time in Indian Scenario, which can include workshops & B2B Seminars.
International Plastics Exhibition & Conference 2015
Date: 29th Jan. to 3rd Feb. 2015
Venue: The Exhibition Center, Nr. Mahatma Mandir, Gandhinagar, Gujarat, India
Website – http://www.indiaplast.net/